We love a good madras plaid.
Multimedia artist Banks Pappas will open his newest show, The Patchwork of History, at the Gadsden tonight (221 St. Philip Street, 7 – 11 pm). We are going to do our best to divide and conquer this evening, which is arguably one of the busiest on the books, to make this show in addition to the French Quarter and CFADA gallery openings + Society 1858 Rock, Scissors, Art on Paper party at the Gibbes Museum of Art.
It's so refreshing to see a new exploration of media, history and culture smashed up into a visually pleasing and engaging package. It's all about the whole package, and Pappas is giving it all to you:
In addition to the still images on canvas displayed, Pappas has also unearthed footage from Charleston in the early 20th century, some shot by Thomas Edison in 1902, to which he has applied a similar workflow with the same polychromatic results.  Also, the 1927 piece "Sur De Charleston (a.k.a. Charleston Parade)" directed by the  late-great French filmmaker, Jean Renoir has also been re-edited in the same fashion. These films are set to be projected as part of the installation as well. The opening reception will also feature local jazz scenesters interweaving the familiar tune "the Charleston" with roaring twenties and ragtime standards.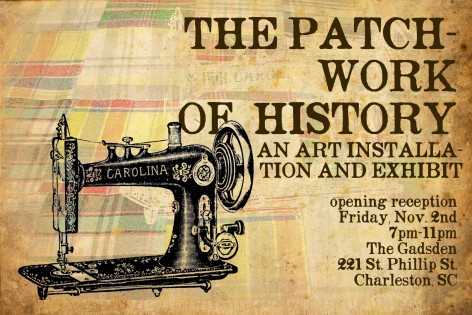 words: Stacy Huggins
Posted on November 2, 2012 by Art Mag.
Categories: Visual Art
Tags: Art Opening, Banks Pappas, The Gadsden, The Patchwork Of History