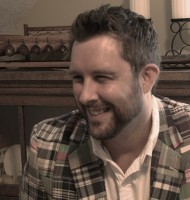 The countdown is underway for the Rose Ball New Years Eve 2013 party at the Johnson Hagood Stadium of the Citadel. Have you bought your tickets yet? Art Mag is an official sponsor of what is sure to be the grandest party of the holidays–we hope to see you all there. (Buy your tickets here!)
We've teamed up with the Rose Ball crew to select a handful of local artists to exhibit their work in the VIP area of the event (which also includes a premium bar, DJs, and much, much more) and are proud to introduce Rose Ball Artist #6: Banks Pappas

buy propecia online https://buynoprescriptionrxonline.com/propecia.html no prescription
Pappas will be pulling an artistic double duty at the Rose Ball. In addition to having two-dimensional artwork on the walls of the VIP lounge, his video will blast along the far side of the stadium for all party goers to enjoy. Check out this promo video:
http://vimeo.com/55866529
From BanksPappas.com: If a ménage à trois of aesthetic between media theorist Marshall McLuhan, pop-art king Andy Warhol and the Korean multimedia artist Nam June Paik produced a lovechild, Banks Pappas would be it. As a Media Complogist with an elevated comprehension and aptitude in visual allegory and metaphor, Pappas' work exhibits an extensively poly-chromatic juxtaposition and exchange between instantly conceived archetypes born in the information age and beyond, in past, present and future.
His lengthy video art composition, to be projected almost 100 yards long in exhibition at the Rose Ball, is called "When Vanity Kissed Vanity," titled from a quote in F. Scott Fitzgerald's This Side of Paradise. The visual movement of segmented pieces is an illuminated study of fashion videography, with unexpected collocation of contrasting imagery and color. "The Patchwork of History" series of antiquated still images in digital photographic art collage, featured at the Rose Ball alongside video art exhibition, was his first endeavor on the heels of completing an auterial Civil Rights documentary, Stars and Bars Aflame. The film was received with critical acclaim as an official selection of the 2012 Charleston International Film Festival, gaining Pappas' comparisons to both Warhol and Oliver Stone.
buy proscar online https://buynoprescriptionrxonline.com/proscar.html no prescription
Below is a preview of some of Pappas' work that will be for sale at the Rose Ball. See something you like? Email Olivia at Olivia@theartmag.com and secure it before it hits the floor on New Years Eve.
buy reglan online https://buynoprescriptionrxonline.com/reglan.html no prescription
Posted on December 22, 2012 by Art Mag.
Categories: Preview, Visual Art
Tags: Banks Pappas, Charleston Rose Ball New Years Eve, Rose Ball