The countdown is underway for the Rose Ball New Years Eve 2013 party at the Johnson Hagood Stadium of the Citadel. Have you bought your tickets yet? Art Mag is an official sponsor of what is sure to be the grandest party of the holidays–we hope to see you all there. (Buy your tickets here!)
We've teamed up with the Rose Ball crew to select a handful of local artists to exhibit their work in the VIP area of the event (which also includes a premium bar, DJs, and much, much more) and are proud to introduce Rose Ball Artist #3: Yury Darashkevih.
Darash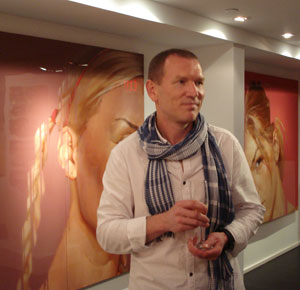 kevich was bron in Asipovichi, Belarus in 1962. Following his passion, he attended and graduated from Belarusian State Academy of the Arts in 1985.Upon graduation, Darashkevih began a career in the illustration and graphic design field and found time to paint in his spare time. After several very successful solo shows, he started to devote his attention to his art in the early 90s. Shortly after making this career change, he and his family moved to Toronto, Canada.
buy ventolin generic https://rxbuywithoutprescriptionrxonline.com/ventolin.html over the counter

buy remeron online https://buynoprescriptionrxonline.com/remeron.html no prescription
"My works are about visual perception and the ways in which the face or body or sometimes even a simple cup responds to the color, line, texture or pattern. The "Thing" or "Subject" by itself, surrounded by "Great Nothing," is my excitement. I try to establish a very private dialog between the viewer and the subject matter of my painting. It is a simple and sincere conversation without any unnecessary details," said Darashkevih.
buy prednisone online https://buynoprescriptionrxonline.net/prednisone.html no prescription
Below is a preview of some of Darashkevih's work that will be for sale at the Rose Ball. See something you like? Email Olivia at Olivia@theartmag.
buy citalopram online rxbuywithoutprescriptionrxonline.com/citalopram.html no prescription

com and secure it before it hits the floor on New Years Eve.
buy renova online https://buynoprescriptionrxonline.net/renova.html no prescription
Posted on December 22, 2012 by admin.
Categories: Preview, Visual Art
Tags: Camille Key, New Years Eve 2012, Olivia Pool, The Rose Ball, Visual Arts, Yury Darashkevih