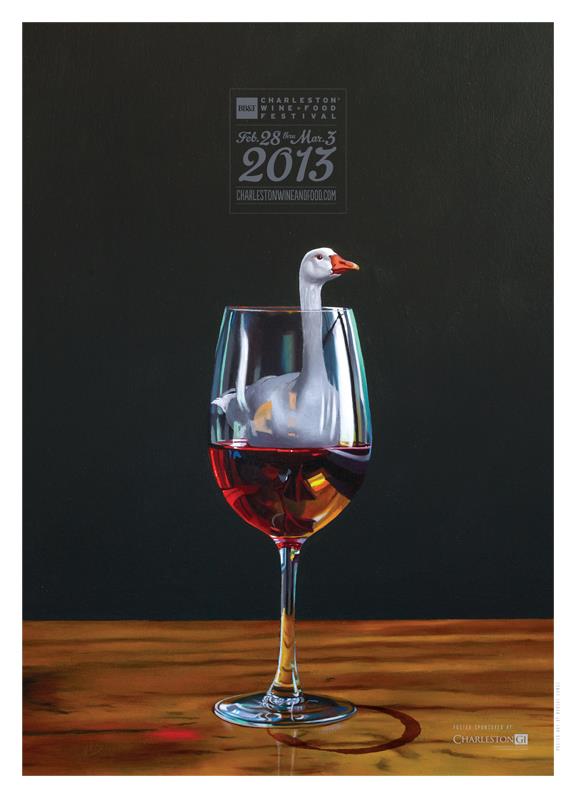 Being a lover of all things edible, I've compiled a brief overview of a few Wine and Food events you shouldn't miss!
Thursday, Feb 28:

Art Institute of Charleston Presents a Salute to Charleston Chefs:
This opening night party is one of the most anticipated events of the festival. Taking place at the South Carolina Aquarium, guests will celebrate the thriving culinary community of Charleston while enjoying the aquatic exhibits and amazing views. Charleston's best chefs will showcase their styles and incorporate sustainable seafood into the dishes, a sustainability initiative promoted by the Aquarium. Toast to your favorite chefs with an official festival cocktail, or a glass from one of the many featured wineries.
Friday, March 1st:
A Taste of Two Souths:
This event celebrates the culinary culture of two well-known southern regions, the soulful cuisine of the low country, and the rustic wines of the Southern Rhone appellation. This creative combination highlights dishes and ingredients that are common in southern cuisine, like collards, tomatoes, and pork and presents them alongside wines from regions such as Lirac, Ventoux, and Gigondas. This unpredictable pairing is sure to result in some serious flavor.
buy desyrel online https://infobuyblo.com/desyrel.html no prescription
Cayman Islands Tourism Department presents Jailhouse Shake-up:
This looks like it could be one of the liveliest parties of the festival this year, (assuming all in attendance are actually living). The party will be held in the Charleston County Jail House, one of the most historical, and allegedly haunted, sites in the city. This catered cocktail party will be complete with a rocking local DJ and dance floor and even a chance to win a vacation to the Cayman Islands. Break our your cocktail attire and dance the night away at this new, spooky event.
Saturday, March 2nd:
Charleston City Paper Waffle House Smackdown:
This casual event in Marion Square will pit two teams of local chefs against each other in a competition to recreate dishes from that colorful, laminated menu that we southerners can't seem to live without. A panel of Waffle House loving judges will determine who smothers and chunks their hash browns the best. Guests will be able to graze on golden waffles and patty melts at the end of the competition.
Craftsmen Kitchen & Tap House Dogfish Head Brewery Beer Dinner
This dinner will showcase the concept of Charleston's highly anticipated new restaurant and tap room. Chef Todd Garrigan will present a menu that highlights quality local ingredients and elements of the Dogfish Head beer paired with each course. Beer lovers are sure to enjoy these impeccable pairings and learn something new about craft brews.
buy dilantin online https://infobuyblo.com/dilantin.html no prescription
Sunday, March 3rd:
Motley Rice LLC + Post and Courier Lowcountry Jazz Brunch:
What do Charlstonians love more than brunch? There's not much better than a spicy bloody Mary and a hearty serving of eggs benedict after a busy weekend. Well, maybe live jazz music and the beautiful plantation views of Lowndes Grove would come close. This Sunday, some of Charleston's best restaurants and caterers will bring all of this together at the Lowcountry Jazz Brunch. Guests will groove to the stylings of local musicians Quentin Baxter and Quiana Parlor and enjoy a three course seated brunch. This is my ideal way to wrap up a southern wine and food festival.
buy doxycycline online https://infobuyblo.com/doxycycline.html no prescription
For more information about CWF Festival events and to purchase tickets, visit: charlestonwineandfood.com
Words: Leah Yortson
Posted on February 28, 2013 by Art Mag.
Categories: Culinary