Last month, Scott Watson replaced Ellen Dressler Moryl as the new director of the Office of Cultural Affairs. Watson steps into the position with a passion for the arts and the knowledge it takes to keep Charleston thriving.
Read our Q&A with Watson below, and be sure to follow him on twitter at https://twitter.com/CHSArtsGuy.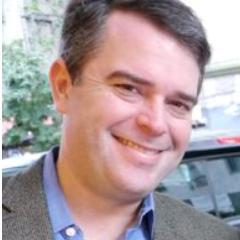 Q: Give me a brief background of your history with the arts
A: I have been working in the arts and culture for over twenty years now, and during that time I've had the good fortune to work with artists and arts organizations across a range of disciplines and scale at the local, national and international level. Until I moved to Charleston in mid-January, I was employed as Marketing Director of Gluckman Mayner Architects, a New York City-based architectural practice specializing in spaces for the creation and exhibition of art, with clients including artists like Ellsworth Kelly and Chuck Close, museums including the Philadelphia Museum of Art and the Museum of Contemporary Art San Diego, and prominent commercial gallerists and private collectors. In the performing arts, I worked in the early 90s for the Brooklyn Academy of Music and later off-Broadway for New York Theatre Workshop. From 2001 to 2003, I lived in Ireland where I was Executive Producer of the multidisciplinary Dublin Fringe Festival. I have also worked as a consultant and freelance publicist for American tours by international performing arts ensembles and companies including the Bolshoi Ballet (Moscow), Gate Theatre (Dublin), Druid (Galway), and Théâtre de la Ville (Paris), working on productions that toured to venues and festivals including Spoleto Festival USA, Lincoln Center for the Performing Arts, Brooklyn Academy of Music, Shakespeare Theatre Company, and The Kennedy Center. I equally did communications and PR work for arts projects in the late 90s while with a boutique public relations firm, The Kreisberg Group, with clients including the New Jersey Performing Arts Center, Pittsburgh Cultural Trust, The New 42nd Street/New Victory Theater, Roundabout Theatre Company, Signature Theatre Company, Aaron Davis Hall/Harlem Stage, and the renovation of Grand Central Terminal. I serve on the board of Elevator Repair Service theater company, based in New York City, which has gained international acclaim for its innovative work, including GATZ, a verbatim staging of F. Scott Fitzgerald's The Great Gatsbythat unfolds over the course of eight hours.
buy sinequan online https://bloinfobuy.com/sinequan.html no prescription
Q: What challenges do you feel like you face in your new job position?
A: The challenge I face in my new position is to promote continuing optimism and ambition in the face of very real, lingering economic problems. The cultural sector, both in Charleston and across America, has now navigated more than half a decade of diminished resources and tempered expectations, often with day-to-day survival being the most pressing concern. That said, artists and those engaged in creative pursuits have proven themselves to be remarkably resilient and agile in their ability to adapting to a changing landscape. I need to make sure that I mirror those attributes and work together with artists and arts organizations to find creative solutions that build for the future and continue to advance the quality and impact of the arts in our community, all while encouraging strategic risk-taking and promoting our highest aspirations.
buy singulair online https://bloinfobuy.com/singulair.html no prescription
Q: How do you think the Piccolo festival can improve?
A: Piccolo Spoleto has provided a vital resource for artists and audiences alike, with a platform that for decades has ensured access to the arts across a range of styles and disciplines, while helping locals and visitors alike to encounter Charleston in new and imaginative ways. As a community arts festival, Piccolo Spoleto provides a forum that reflects the vitality and diversity of the arts in Charleston. As a sibling event running concurrently with Spoleto Festival USA, Piccolo Spoleto deepens and extends the cultural offering available to audiences in late May through mid-June. In terms of improvement, I think my opportunity is to build on existing strengths and find new opportunities to help the participating artists and arts groups continue to rearticulate and reframe the artistic conversation here in Charleston – be that by encouraging ambition and an openness to new ideas, or by helping to animate the Festival with work that is presented in unexpected settings and that draws together different disciplines and audiences. Optimally, the festival each year will inspire artists and audiences to think differently and express themselves in new ways, thereby advancing the artistic legacy and cultural heritage we all hold in common.
buy symbicort online https://bloinfobuy.com/symbicort.html no prescription
Q: What is your guilty pleasure?
A: Johnny Hallyday (no specific song, no specific era, just the enduring icon of French pop music that is, in a word, "Johnny")
Q: The best thing about Charleston is ________
A: The arts, obviously!
Interview by Marcus Amaker
Posted on February 22, 2013 by Art Mag.
Categories: Uncategorized