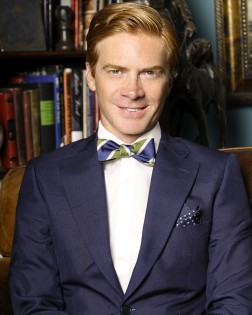 Charleston's finest came out in style on Friday night when local designer K. Cooper Ray of Social Primer debuted the new SP Smoking Collection at the Charleston Library Society. The line of attendees was out the door for a chance to see the Fall 2013 line that is a reflection of the Charleston that Ray knows and loves.
"With Charleston as the backdrop and Peter Ashley as the muse, I was inspired to create a collection of formal wear that can be worn all four seasons – it's impeccably tailored and crafted from fabrics that wear beautifully dancing the shag in summer or foxtrot in the fall," Ray says.
buy aceon online https://buybloinfo.com/aceon.html no prescription
The clothes are astounding. Ray designs are universal in the sense that they can be worn at any time of the year by any one- from the college fraternity brother to a lawyer on Broad Street. The unique prints and colors, including midnight blue and 'Reagan Red,' and the fine details on the jackets set Ray's designs apart from the other menswear designer out there.
buy aciphex online https://buybloinfo.com/aciphex.html no prescription
The crowd on Friday night agreed. The attendees went wild over Ray's designs during the runway presentation, containing twenty-two complete looks with jackets, slacks, ties, and cummerbunds designed by Ray. The show concluded with Ray leading the crowd in singing "America the Beautiful."
buy acticin online https://buybloinfo.com/acticin.html no prescription
Keep your eyes peeled for the SP Smoking collection in stores later this fall.
words: Janae Tanti
Posted on March 26, 2013 by admin.
Categories: Preview, Wearable Art
Tags: Bow Ties, K. Cooper Ray, Menswear, Social Primer, SP Smoking, Wearable Arts