Guys, I saw an amazing play this weekend. Unfortunately, it has closed, but the good news is: Village Rep has another play coming up in a couple of weeks. If The Whipping Man was any sign of things to come, don't miss The Liar.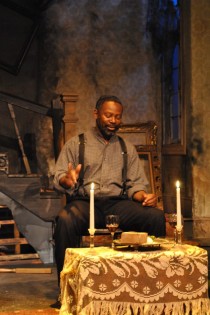 For the latest production, Keely Enright directed a three-man cast—a trio who more than once created palpable tension on the stage. Young Stowe, Michael Burgess, and Andre Hinds pulled off a show that includes confederate army desertion, emancipation, starvation, forbidden love, secret siblings, betrayal, and unthinkable cruelty… in addition to sincere faith, loyalty, deep affection, and compassion. Let's see… Oh! And Young Stowe has his leg amputated by the other two guys. On stage. Lots of screaming. Yes, I was exhausted by the end of the evening, but I did not want it to be over—that was the general consensus of the entire audience. buy arava online https://infoblobuy.com/arava.html no prescription
Shout out to everyone involved in set design and construction. As usual Village created an absolutely stunning visual presentation. My friends and I actually had to stop and stare at it for a bit when we entered the theatre. It was that cool. Also, can I hear an "Amen!" for the lighting design we saw that evening? The Village team had some amazing fun with lights and windows that showed off the scary silhouettes of Stowe, Burgess, and Hinds throughout the show.
I was so viscerally engaged in The Whipping Man that I can't wait to see what Village brings us next. It's obvious that quite the group of talented and passionate creatives is at work in their new space on Woolfe Street. Check out the Art Mag event calendar for details, and be sure not to miss The Liar directed by Cristy Landis.
buy antabuse online https://buyinfoblo.com/antabuse.html no prescription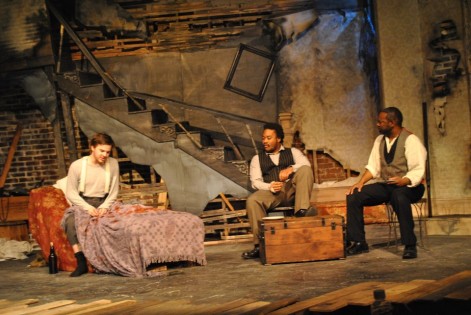 buy asacol online https://infoblobuy.com/asacol.html no prescription
Words: Cara Beth Heath
Posted on March 19, 2013 by admin.
Categories: Performing Arts, Review
Tags: Andre Hinds, Art Mag, Keely Enright, Matthew Lopez, Michael Burgess, The Whipping Man, Village Rep, Woolfe Street Playhouse, Young Stowe