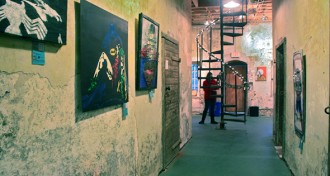 Come spend this Saturday night in jail at the creepy-cool music and arts festival Jail Break!   Mingle with Charleston's quirky creative minds in this historically haunted venue, you may even leave with a ghost story of your own.  The Old City Jail is a notoriously bad ass building in downtown Charleston, not only for its historically interesting architecture, but for it's gruesome past and slew of ghost stories.  The jail has housed some of history's most devious criminals, including some shady ladies like Lavina Fisher.  What better venue to host a night of twisted fun?
The one night festival is really a giant bash celebrating all things artistic, funky, and local.  During the afternoon, you can meet crafters while browsing through the Artisan's Market in the courtyard.  The spooky halls of the jail will be decorated with stunning visual art in the theme of this twisted event.  Have a laugh with a few of our local funny men, Evan Berke and Dusty Slay, who will be performing stand up comedy.  The music line-up for this event is absolutely awesome!  Come see your favorite local musicians like Steven Fiore, Brave Baby, and The Royal Tinfoil.  Once the sun starts to set, the setting is sure to get even creepier, which usually leads to something fun, right?
Rock out in the courtyard or go inside to wander the haunted halls of the Old City Jail.  Enjoy a cocktail and a spontaneously wicked performance from the Charleston Dance Alliance.  No dark corner is safe to hide in, this is one high energy event that is sure to entertain.  The Old City Jail is not only the perfect site for this festival, and for the crowds of eager ghost hunters on tours.
The American College of the Building Arts has recently set up shop inside and even conducts classes in some of the old cell rooms.  A historic marvel, and home to some seriously juicy tales, the jail is a big part Charleston's dark past, and is quickly becoming part of it's progressive future!
I am so looking forward to this event and will definitely keep my eyes peeled for some supernatural crashers!
Jail Break
Saturday, April 27
4 – 11pm
words: Leah Yorsten
Posted on April 24, 2013 by admin.
Categories: Preview
Tags: Acba, Art Festival, Art Mag, Brave Baby, Charleston Dance Alliance, Jail Break, Music Festival, Old City Jail, Steven Fiore