Troy & Sons Distillers, new players in the craft beverage game, are setting the standard for quality American liquors.  Troy Ball, the female pioneer behind Troy & Sons, has found the "sweet spot" when it comes to distilling whiskey.  Through a belief in quality, local sourcing, and craftsmanship, Troy Ball has created a true homage to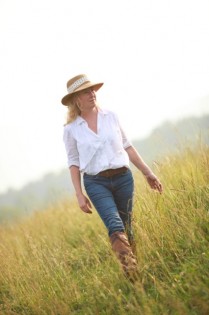 the original American spirit.  She's been traveling the country promoting her latest products, and I had the chance to grab a drink with her at Husk Bar last week (notably one of Charleston's best bourbon whiskey bars)!  I was excited to get the scoop on this lady moonshiner and am thrilled to share her cool products with you all!
After she and her family moved to Asheville, NC, Ball began to learn the local trend of home distilling.  She studied techniques from the "old guys, the original moonshiners," she says.  Ball found that the best moonshine is rarely sold, but most often kept in the creator's own home for drinking.  That was the good stuff she wanted to recreate.  She explained that after searching for the perfect ingredients, and a lot trial and error, she and her crew finally developed the perfect recipe for their silky smooth white corn whiskey.  "We are doing something very traditional and accurate to original recipes," she says.  Ball credits the heirloom Crooked Creek Corn and her advanced distilling facility for high quality and perfect flavor of her booze.  She was proud to tell me about the unique process of growing the corn and how it's high fat content yields a rich and unique flavor.
Troy& Sons currently have three different whiskeys on the market, their original White Corn Whiskey, the Oak Reserve, and their newest Blonde Whiskey (deemed to be a "lighter spirit").  Whether you're an avid whiskey drinker or if the thought of brown liquor makes you queasy, you should definitely give this stuff a try.  Our lovely bartender at Husk created some delicious fruity cocktails with the Bl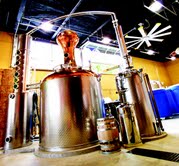 onde and Oak Reserve, and I've even seen the White Corn recipe used in a margarita!  This spirit would be great for straight sipping, a spicy manhattan, or summer porch cocktails.  Think about a nice mint julep or moscow mule with any of these, yum!  Troy Ball and her crew are making big waves in the craft beverage movement, and I'm so glad I got to meet her and see what Troy & Sons is all about!  Look out for these spirits behind your favorite bars like Stars, Osteria la Bottiglia, Tattooed Moose, and of course Husk.  I'm sure you'll be seeing this stuff everywhere soon, so get out there and taste it!
Also, check out the distillery and plan a tasting tour next time you're in Asheville, NC.  If there is one thing southern moonshiners know, it's hospitality.  I can't wait to get up there myself!
Words: Leah Yorston
Posted on April 30, 2013 by admin.
Categories: Culinary
Tags: American Whiskey, Crooked Creek Corn, Husk Bar, Husk Restaurant, Moonshine, Troy & Sons, Troy Ball, White Corn Whiskey