The North Charleston Arts Fest is in full swing, so on Tuesday night I made my way out to the the Material Matters exhibit reception at 10 Storehouse Row, a repurposed warehouse at the US Navy Shipyard.  The small exhibit, curated by local fiber artist Kristy Bishop, features five abstract visual artists who used all kinds of materials to create contemporary sculptures.
The styles of artworks varied greatly, but they all used materials in their own particular way.  I saw everything from acrylic paint on canvas, to nylon stockings filled with foam, to doll hair hung alongside molds of human fingers.  It was a funky little exhibit that showed off some unique artworks.  I think of the five different artists, I liked Camela Guevara's work the best.  I found myself most drawn to her works with ink, beading, and stitching on canvas.
The actual space that the exhibit is held in is quite interesting, as well.  The celebrated architectural firm BNIM has transformed the abandoned warehouse into a highly functional gallery and office space for arts entrepreneurs.  The space houses an apparel company, an ecological research team, and even a restaurant.  The high ceilings and concrete walls also made for great acoustics for the jazzy tunes of Sing the Body Electric, who played during the reception.  The works by artists such as Sara Boyts Yoder, Katya Usvitsky, and Lauren Francis Moore will hang in the storehouse gallery until June 30.
There are still plenty of Arts Fest events going on for the rest of the week, so be sure to get out no North Charleston to see this exhibit!
words: Leah Yortson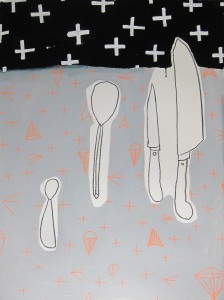 Posted on May 9, 2013 by admin.
Categories: Feature Post, Review, Visual Art
Tags: Camela Guevara, Kristy Bishop, Material Matters, North Charlesotn, Sarah Boyts Yoder, The North Charleston Arts Festival