After partaking in the opening ceremonies this afternoon, Olivia and I headed to Memminger Auditorium this evening to catch our first performance of the Spoleto festival, Le Grand C. 
With seventeen acrobats, Le Grand C was a beautiful and exciting interpretation of life through the body ensemble- an interpretation of the rituals "of any given day anywhere in the world," such as a city skyline, a rugby scrim, or a seductive dance.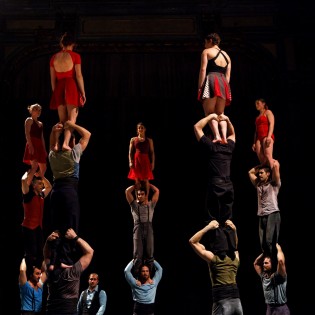 The crowd oohed and aahed as the acrobats soared gracefully through the air and effortlessly created human skyscrapers and pyramids. At the show's start, the stunts were slow and steady, but continued to increase in difficulty and momentum as the night went on, climaxing with a battle between the acrobats. But it was not the dangerous stunts of Le Grand C that I found most entertaining, but the subtle interaction between the performers. The flirting and the comical rivalry had me rolling with laughter even as I clutched the edge of my seat, amazed as the acrobats dangerously defied gravity. The camaraderie among the performers was almost palpable. It was obvious that these agile performers were having the time of their lives, doing what they loved with a group of peers they enjoyed working with. Although I may not have been able to understand exactly what they were saying in French, I found myself wanting to partake in their conversation- to be one of the gang.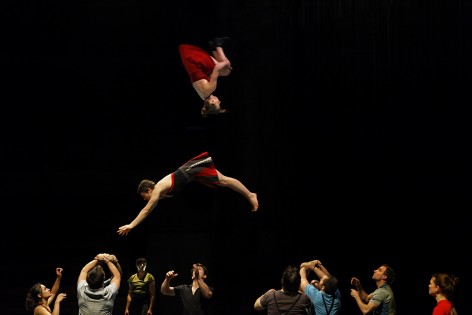 You can join the fun with Le Grand C on May 25, 27, 29, 30, 31 and June 1. Visit the Spoleto website for times and tickets. This is the only physical theatre show of this year's Spoleto Festival- you don't want to miss it.
words: Janae Tanti
Posted on May 24, 2013 by admin.
Categories: Performing Arts, Review
Tags: Le Grand C, Memminger Auditorium, Performing Arts, Physical Theatre, Spoleto, Spoleto Festival 2013, Spoleto Festival Usa, Spoleto Opening Ceremonies