I think the other members of the audience will join me in a rousing, "Ahoy!!" in welcoming the Punch Brothers back to Charleston and the Spoleto Festival!  The progressive bluegrass quintet regaled us with traditional bluegrass tunes and their own virtuoso sound last night at the TD Arena downtown.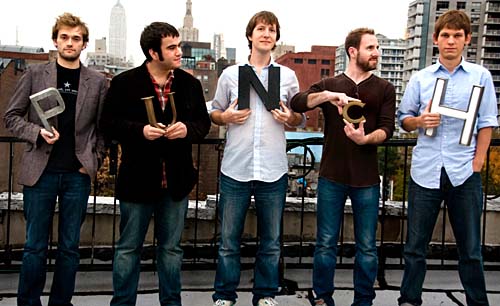 It was my first experience seeing Punch Brothers live and was impressed to say the least.
buy cipro online https://cpff.ca/wp-content/languages/new/canadaa/cipro.html no prescription

  I'm a sucker for the fiddle and banjo myself, but all five members of the band have such individual talent that their solos will put you on the edge of your seat.  And when you bring them all together … magic.  From the pure rock rhythms of their new, album-titled "Who's Feeling Young Now?" to the pulsing tension of "Movement and Location," well, let's just say they've won a new fan!
My only complaint last night has nothing to do with the band.  Even though the sizeable arena had been transformed into a smaller stage, the acoustics were still lacking.  And dancing–forget it. We settled for toe tapping in our uncomfortable and hard-to-reach seats.  You really want to see these guys outside where you're free to move, or in a more intimate space, where they can unplug and you can hear every note sliding and plucked from the strings.
buy zovirax online https://cpff.ca/wp-content/languages/new/canadaa/zovirax.html no prescription

 Regardless, it was a great show and I'll be looking out for them in the future!
words: Jessica Dyer
Posted on May 28, 2013 by admin.
Categories: Performing Arts, Review
Tags: Charleston, Music, Performing Arts, Punch Brothers, Spoleto Festival Usa, TD Arena