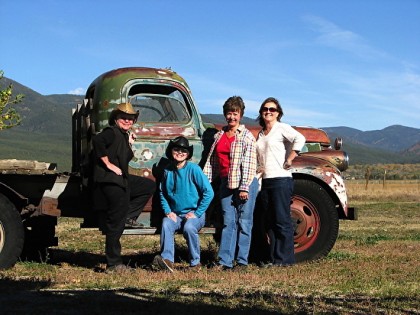 This Friday, at The Real Estate Studio on King Street, four of some of our favorite ladies are coming together for their group interpretation of Dawn and Dusk. Come join Marty Biernbaum, Brenda Orcutt, Patricia Huff, and Mary Sayas Thursday evening for a fun night of art, community, and of course, margaritas!
After many travels together, these four women decided to do a show together that would capture the beautiful dusks and dawns that they had experienced during their many art journeys. Biernbaum, Orcutt, Huff, and Sayas have developed a very close-knit "art circle" that travel together to paint, critique, and support one another.
From viewing elk at dusk in a back mountain meadow in North Carolina to a sunset-reflecting, gurgling brook in Taos, New Mexico, these four friends have painted plein air in morning light under trees with babbling magpies, to late afternoon light in a field of lavender, to golden evening light in the vineyards of Napa Valley. Using a variety of oil painting techniques, including palette knife and glazing, the show gives the viewer many interpretations of the radiance of light and color at these beautiful times of day.
Each artist brings her own special style and skills to this show. Patt Huff has studied and painted for over thirty years. She has studied with such well known artists as Delores Kennedy, Ouida Canaday, Albert Handel, Doug Dawson, Judith Carducci and Susan Sarbach, to name a few. She has also studied at the Atlanta College of Art. Patricia has honed her yin and yang impressionistic interpretation of serene to vivacious landscapes using many different oil painting techniques, including palette knife and glazing. Her pastel and oil works have won awards in local and Atlanta shows.
Mary Sayas has been painting for about twenty years, studying with many local and nationally known artists.  Most recently, Mary has studied with impressionistic colorist artists Susan Sarback and Camille Prezwodek, who both studied with the renowned American Impressionist, Henry Hensche.  Mary has found her passion by painting with their unique methods, both very different which produce paintings with luminous, glowing color. She has a passion for travel and has set up her easel in Mexico and the south of France, as well as in many different locations in the U.S.
Brenda Orcutt draws collectors to her modern art with the fresh and exciting feel of thickly-applied paint and the pureness of color in her textural oil paintings. Her boldly-rendered palette knife work is the result of focus and diligence that are obvious in her paintings, yet her paint strokes and use of color show movement  and spontaneity. This award-winning artist's aim is to not only produce a scene with precision, but to develop new visions of time-honored subjects with her energetic  approach with paint and knife.
Jousting with windmills is mild compared to the multi-media madness that Marty Biernbaum explores through her art.  Painting, sculpture, and pottery have been her professional occupation as well as her passion for the past thirty-three years. In her oil paintings, Marty uses bright and bold palette knife strokes to express her surreal view of the world.
Dawn and Dusk opens with a reception on Friday evening, May 24 from 5-8 pm. We'll be there celebrating with these four friends while sipping the margaritas that they so often enjoy while on painting trips. If you can't make Friday evening's reception, stop by The Real Estate Studio during Second Sunday on King Street on June 9th- all four artists will be out on the street celebrating some more. Dawn and Dusk will hang through July 1.
Posted on May 22, 2013 by admin.
Categories: Preview, Visual Art
Tags: Art Opening, Brenda Orcutt, Dawn And Dusk, King Street, Marty Biernbaum, Mary Sayas, Patricia Huff, Second Sunday On King, The Real Estate Studio, Visual Art