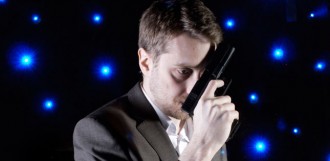 One man with psychic and telekinetic powers captivated an audience during Bullet Catch. Whether you left believing or not, you were filled with a rush of adrenaline after witnessing a stranger shoot the performer in his face.
Rob Drummond, award-wining playwright and director, immersed himself in the world of illusion to present the history of the infamous "bullet catch" trick. Recounting those who failed built the suspense of his attempt to catch a bullet in his mouth.
Beginning the act with a simple guessing game with three audience members and three balls he selected his assistant. This person would ultimately pull the trigger.
Throughout the evening the audience was let in on secrets and learned about trust, faith and the importance of human connections.
Bullet Catch leaves you asking whether to love, save or kill the next person you meet. Unfortunately, the last performance was June 9, but we bet you would have chosen love.
words: Erin Nathanson
Posted on June 10, 2013 by admin.
Categories: Performing Arts, Review
Tags: Bullet Catch, Performing Arts, Review, Spoleto Festival, Spoleto Festival 2013