The Grand Tasting Food Frenzy
Asheville is a foodie mecca year-round, but certainly there was a collective peak in farm-to-table-to-distillery love at the Grand Tasting.  The event combined tastings from the best restaurants in town, a surprising number of North Carolina wines, and an agreeable amount of fine distilleries and craft beer.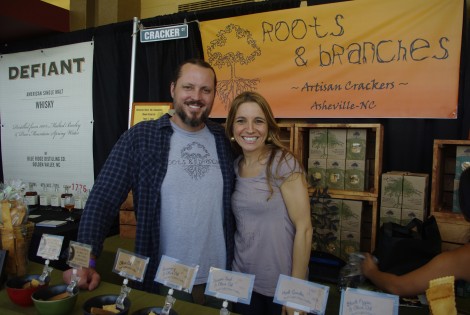 Defiant Single Malt Whisky stepped up local whisky, pouring a top-shelf made-in-NC single malt that was made for sipping straight. Or making fancy cocktails. Trying some yam vodka, poured by the guy that both grows the yams and distills the delicious spirit, was a real highlight. When you talk to a farmer, their eyes light up when describing what they grow. You could also see this spark in the couple making a locally produced hot sauce, or in the foraging expert, and certainly in the chefs.
The final round of the WNC Chefs Challenge was a big part of the excitement, with a team from Strada facing off with Tomato Jam Cafe, and a difficult secret ingredient– smoked Sunburst Farms trout, including the roe. In one hour, the chefs had to create a three-course meal for a panel of judges (that included Nathalie Dupree), with dessert being especially challenging.
Winsome Wine Pairing Dinner at Strada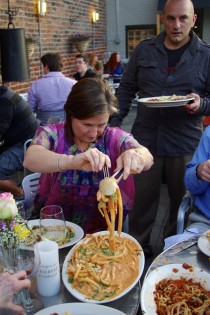 Anthony Cerrato competed as a finalist in the WNC Chef Challenge on Saturday and on Sunday he cooked a dinner at his restaurant that combined his Italian cuisine with wines from Stemmari.  Strada is a certified Green Restaurant and their wines reflect their values. Wine steward Jayson Landers says, "We try to serve wines from vineyards that are sensitive to the environment."
Four family style courses were served on the Social Lounge's rooftop patio and long ziti stole the show during the pasta course, in a vodka sauce with artichokes and spinach. They poured a Sicilian favorite, Nero d'Avola, a grape that is akin to a Syrah, complex and earthy.  The romantic outdoor setting got extra punch from the stunning sunset that created a gold and orange sky.
buy stromectol generic gaetzpharmacy.com/stromectol.html no prescription

Fig-glazed quail came out in a heaping pile, little legs up, with a green salad for the third course. Classic tiramisu and biscotti capped off dinner nicely.
words and images: Dee Dee Arthur
Posted on August 26, 2013 by admin.
Categories: Culinary, Review
Tags: Asheville Nc, Asheville Wine And Food Festival, Culinary Arts, Defiant Whisky, Festival, Food, Grand Tasting, Social Lounge, Strada Restaurant, Sunburst Farms Trout, Tomato Jam Cafe, Yam Vodka