With a nearly sold out house Saturday night at the Charleston Music Hall, the energy felt like a Spoleto event with well-heeled patrons, expert lighting and sound, and a world-class group of musicians on stage. This year's Latin night had the Charleston Jazz Orchestra performing the music of Brazilian composer Antonio Carlos Jobim, famous for his bossa nova influence on American jazz, and for giving the world "The Girl From Ipanema".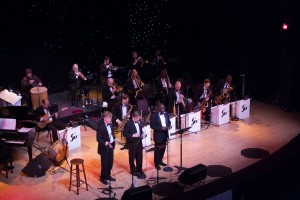 Conductor Charlton Singleton reminded the audience how rich in talent our city is and it was surely evident on stage during the show. Local composers and musicians Duda Lucena and Gino Castillo added authentic Latin flair to the ensemble and Leah Suarez' sultry vocals were the icing on this big ole cake. World-traveling trumpeter Cameron Handel, on break from touring with Michael Bolton, was the lone female instrumentalist in the group and received a hearty applause for her standout solo, and not just because her parents were there.
The eleven-song set was a fast and exciting musical ride but the highlight for us was when Singleton, Jon Phillips and Stephen Spaulding sang "One Note Samba," with the orchestra performing Phillips' own arrangement. This trio exuded so much charisma, and their voices harmonized beautifully.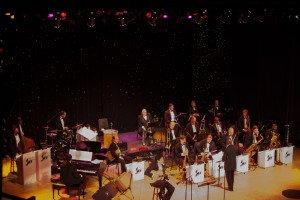 Between their fabulous sparkly fiber optic curtain and the perfect acoustics, the Music Hall is truly a joy for lovers of live music. Seeing these great jazz artists in their home venue is always such a pleasure.  And for that, they have our wholehearted appreciation.
words: Dee Dee Arthur
images: Mariana Veloso Slater
Posted on September 23, 2013 by admin.
Categories: Performing Arts, Review
Tags: Cameron Handel, Charleston Jazz Orchestra, Charleston Music, Charleston Music Hall, Charlton Singleton, Duda Lucena, Gino Castillo, Jazz Music, Jon Phillips, Leah Suarez, Stephan Spaulding