Yoga and booze. What could be better?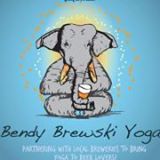 Beth Cosi, owner of Tapas Yoga, is kicking off the Bendy Boozy Yoga series on Wednesdays at High Wire Distilling Co. starting on October 23. Not an experienced yogi? No problem. This class is designed for all levels of flexibility, including first-time beginners. The classes, which begin at 5:30PM, will include a 45 minute yoga session, followed by a special tour and tasting of High Wire spirits.
This is the perfect opportunity to visit High Wire Distilling Co. if you haven't gotten a chance to yet. Their spirits are handcrafted in small batches, and are distilled in a hand-hammered, German copper still. Nothing makes for a better post-work out refreshment than a cold beer, especially one made from premium, specialized ingredients.
The class is $10 per session, and space is limited, so don't waste any time securing your spot!
For more information visit www.highwiredistilling.com,  call  843-437-0846 or e-mail tapasyoga.beth@gmail.com
Namaste and cheers!
words: Daniela Weinapple
Posted on October 17, 2013 by admin.
Categories: Preview, Uncategorized
Tags: Bendy Boozy Yoga, High Wire Distilling, Tapas Yoga, Yoga