Things got sketchy at The 827 on Tuesday night.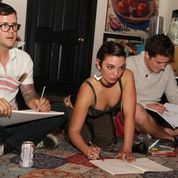 Artists and art lovers gathered together in the gallery-turned-Moroccan bungalow for Dr. Sketchy's Anti-Art School Charleston, a sketching event that puts a twist on traditional figure-drawing by featuring an out-of-the-box performer.
This time, the featured performer was the amazing sword and belly-dancing extraordinaire Zahrah, Star of the Desert. Zahrah started off the evening with an alluring dance, then posed with her sword as artists sketched her during timed sessions, competing against one another for a series of prizes from Artist & Craftsmen. Things got especially sketchy when Zahrah incorporated Romeo, a live python, into her dances and poses.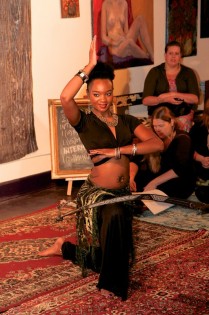 For the final sketching session, which lasted 20-minutes, artists competed for the grand prize of a complimentary hair-cut and conditioning treatment from Lava Salon. Zahrah chose Dee Dee Arthur's colorful drawing as the winner of the night.
Guests munched on tasty tapas from Taste of India, and delicious pumpkin vodka punch, courtesy of Cathead Vodka, flowed throughout the night. Professor Ping provided a sultry soundtrack to the sketching, and Sarah Markusich of Simply Becoming Designs had a display table set up featuring her exquisite hand-made repurposed jewelry for sale. To finish off the evening, Gypsy Spirit provided Tarot Card readings to guests.
This event was made possible thanks to it's awesome sponsors, Lava Salon, Jericho Advisors, and Holy City Tattoo.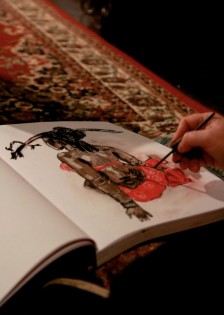 Whether you're a seasoned sketcher or can't draw to save your life, Dr. Sketchy's events are always a seductive and extravagant experience. If you missed Tuesday's event, stay tuned for the next one! Check out photos from the event on our Pics + Vids page here.
words: Daniela Weinapple
images: Richard Brendel
Posted on October 30, 2013 by admin.
Categories: Performing Arts, Review, Uncategorized, Visual Art
Tags: Avondale, Cathead Vodka, Dr. Sketchy's, Dr. Sketchy's Charleston, Holy City Tattoo, Jericho Advisors, Lava Salon, Taste Of India, The 827, Zahrah Star Of The Desert