Holly Williams, the golden-voiced granddaughter of Hank, was singing her grandfather's gospel hit to close out her set when I walked through the gates of the Southern Ground Music & Food Festival on Saturday. "Now I'm so happy, no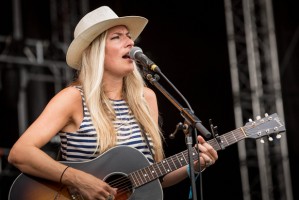 sorrow in sight, Praise the Lord, I saw the light" — the lyrics were akin to my own feelings about enjoying an afternoon of stellar music outside.
Blackbaud Stadium has been transformed by Southern Ground gypsies into a giant first-world entertainment zone with a massive stage flanked by video screens, a manicured lawn to set up a blanket on, and what appears to be a ferris wheel on steroids.  In between the main stage and the secondary stage, also ginormous, are dozens of food stalls where you could find everything from Banh Mi to barbeque.  In the mid-afternoon though, this was a beer crowd, with nine-dollar drafts going like goat cheese-gritcakes.  Dawes played an incredible set of their endorphin-producing brand of rock that turns people all happy smiley. Their song "Most People" was as beautiful as it is profound and was a real highlight. This band is no stranger to Daniel Island (they opened up for Dylan at the Family Circle Stadium last year), but the crowd was a little sparse and the band playfully joked, "It is totally fine that you've never heard of us.  That is why we play all the time."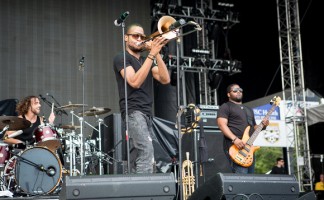 Trombone Shorty & Orleans Avenue got everyone's attention with their high-energy tripped-out jazzy rock and roll.  After an instrumental "American Woman," things went from simmering to a rolling boil as their guitarist let loose like Jimi Hendrix and the drums were bringing one crescendo after another.  Their cover of the traditional "St. James Infirmary Blues" had Shorty doing a marathon trumpet solo that was truly awe-inspiring and the crowd was totally into it.  My buddy Pete was amazed and remarked, "He's the Jay-Z of jazz geeks!"
It was a real treat to get to hear diverse live music of this caliber in the span of a few hours. I ducked out before the rain came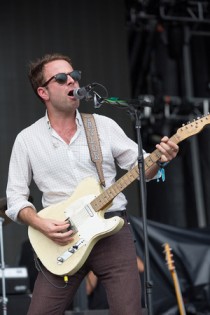 but am thrilled about Sunday's lineup which includes local fave Band of Horses and legend Willie Nelson.
words: Dee Dee Arthur
images: Southern Reel
Posted on October 21, 2013 by admin.
Categories: Performing Arts, Review
Tags: Band Of Horses, Blackbaud Stadium, Chs Music, Dawes, Holly Williams, Southern Ground Festival, Trombone Shorty & New Orleans Avenue, Willie Nelson