Last night was the American College of the Building Arts' annual fundraiser known as The Red Party. This was my first time at the sold-out event, which took place inside and outside of the Old City Jail.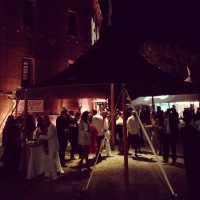 The theme being The Great Gatsby, it was a sea of sequins, feathers, and fur. Guests strolled the outdoor lawn area in their finest 1920s era attire sipping cocktails and enjoying the live swing jazz music of the V-Tones. The Old City Jail was transformed into a space that would make Gatsby himself swoon, complete with a stunning city light image projected onto the side of the jail, vintage cars, and a secret Speakeasy tucked away inside the VIP area of the building.
Delectable food samplings and tapas were available from some of Charleston's best establishments, including Basico, HoM Burger Boutique, Butcher & Bee, and Fuel. I tried a pint-sized Strawberries & Champagne flavored cupcake from Vanilla Bean Pastry Co., and it was divine. Complimentary La Bubbly champagne was provided to guests by Wine Awesomeness, and specialty cocktails made from Pama Liqueur, Larceny Bourbon, and Epic Vodka were available at the bar.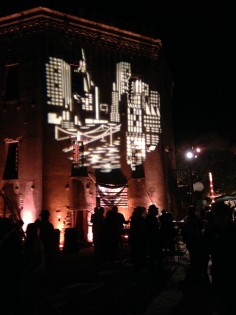 A highlight of the Red Party were the auctions, both silent and live, hosted by local meteorologist Tom Crawford. There was something for everyone under the auction tent, from fashionable items such as shoes courtesy of Charleston Shoe Company and a gift certificate to Little Black Dress, to a signed Pittsburgh Steelers football, to a limited edition Le Crueset Mariner Star oven. This year guests were able to keep up with their bids while they partied through a special text-bidding method, making the process easier than ever.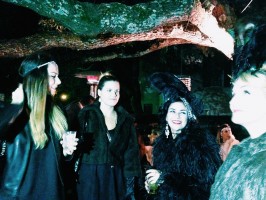 The Red Party lived up to its reputation as one of the most extravagant parties of the year, and I'm already looking forward to what next year's event will entail.
Check out more photos on our Pics & Vids page by clicking here.  (Those photos are by Richard Brendel.)
words and images: Daniela Weinapple
Posted on October 26, 2013 by admin.
Categories: Review, Uncategorized
Tags: American College Of The Building Arts, Basico, Butcher & Bee, Charleston Shoe Company, Epic Vodka, Fuel, HoM Burger, La Bubbly, Larceny Bourbon, Little Black Dress, Old City Jail, Pama Liquer, Red Party, The Great Gatsby, The V-tones, Vanilla Bean Pastry Co., Wine Awesomeness