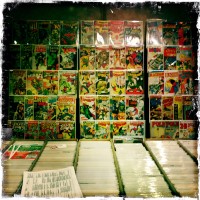 AtomaCon, a media arts convention dedicated to enlightening the world with science, science fiction and fantasy, made its debut in Charleston this weekend. The InnPlace was filled with spectacular costumes and fascinating people who have been creating and feeding an amazing culture.
AtomaCon had something for everyone–from comics and masquerades, to panels entirely about writing the perfect fight scene. Park Circle Comics was armed and ready with virtually any comic book one could ask for. Comic artist Paul Choate's vibrantly wild comic entitled "Project Alpha" was on display and  T.M. Showers brightened the room with his unique monster paintings and prints.
The literary panels consisted of all published authors that were extremely informative and ready to answer even the most outrageous of questions. There was even a Craft Brewing Q &A held by the award winner home brewer, Joe Niedzwecki. The convention was surprisingly lively for its first year in the city and we look forward to future years of robots, comic strips, medieval garb and story crafting!
words and image: Kyle Victory
Posted on November 11, 2013 by admin.
Categories: Literary Arts, Performing Arts, Review, Visual Art, Wearable Art
Tags: Art, AtomaCon, Beer, Cartoons, Comics, Costume, Fantasy, Fantasy Novels, Fight Scene, Masquerade, Scifi, Technology