When John Currence comes to town, there is a big ole party.  The Mississippi chef and author made his fortieth book tour stop in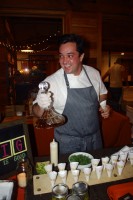 Charleston Tuesday night to promote his cookbook,  Pickles, Pigs & Whiskey.  He signed books and mingled with a huge crowd at High Wire Distillery, joking that it must be the only thing going on that night.  The event was a hot ticket for culinary types with a fondness for his colorful language and his way with Southern ingredients.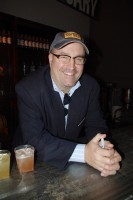 Highfalutin local chefs Sean Brock and Josh Keeler served up their riffs on recipes from Currence's book, with crispy pig ear and pickled deviled eggs dotted with trout roe among the offerings.  Butcher & Bee made divine meat pies and then outdid themselves by bringing out hot pork-fat brioche rolls, glazed shiny with sorghum butter, generating quite the party buzz.
Bittermilk served cocktails using their artisan mixers and High Wire's spirits, and Edmund's Oast, a brew pub opening up on Morrison Drive come January, had their stellar Sorghum + Biscuits beer on tap.
With all the big players and familiar faces, the party felt like a swanky Wine + Food Festival event, tiding us over until spring, or maybe just until next Tuesday.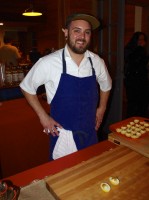 words and images: Dee Dee Arthur
Posted on November 20, 2013 by admin.
Categories: Culinary, Review
Tags: Bittermilk, Butcher & Bee, Charleston Cooking, Charleston Eats, Charleston Wine + Food Festival, Edmund Oast, High Wire Distilling, John Currence, Pickles Pigs & Whiskey