Last night, one of my dreams came true. I got to meet Seth and Scott Avett, of The Avett Brothers. Before the Legendary Giveback II concert, a partnership with Cheerwine, they were kind enough to sit down with us for a few minutes. It was about the greatest 6 minutes ever. They are some of the most genuine and gracious musicians I've ever met. Talking with them was easy like a Sunday morning, they were so kind and warm and open.
These boys from Concord, North Carolina are joined by Bob Crawford on stand up bass, Joe Kwon on cello, and Mike Marsh on percussion, and they have a sound that you can not easily categorize. Americana, sure. Country, a little. Rock and Roll, yup. Bluegrass, definitely. They've crafted their own unique sound and it's grown with them as they've grown.
The Legendary Giveback II is a benefit concert for Operation Home, Big Brothers Big Sisters, and MUSC Children's Hospital, the band's personal selection.
On why they chose Charleston for the concert location: "Well, we love Charleston, we love it.
buy black cialis generic https://yourcialisrx.com/black_cialis.html over the counter

We've been here a lot throughout the years…whoever brought it up, we were just like 'perfect, great.' It didn't take much deliberation."
"Home spans a broad area, and Charleston is easily within that. It's a place we have history, since we were kids…we felt like it was relevant to come to Charleston…As far as the Children's Hospital, several of us have children, one of us in particular has a daughter who is extremely sick…it was a no-brainer."
Scott, on the development and growth of the band: "My favorite thing as a band, we were firing on all cylinders, we were discovering new things. Being more mature, we're not the same bright eyed guys that were putting out these frantic, you know as they say, balls to the wall, crazy, punk, grass, whatever they said. As we've grown, the discoveries have been in different places…not how loud could it be or how wild the night could be. The discovery is really important."
Seth, on their new album Magpie and the Dandelion: "I'm not sure if it's a point of pride, but I think maybe we were most assured on this record, because we reviewed it and looked at it so carefully, more than any other record by far. I think we felt very sure about what it is, what it says, about the soul of it, where as there have been other records we've put out before we even had an idea of what they were, so that's what really separates the new record from those previous ones."
On the partnership with Cheerwine: Scott: "You can't escape Cheerwine growing up in North Carolina, Cheerwine was the pure bred Carolinian. With that history came an opportunity to do what we do, to do voice over work for a commercial for Cheerwine which was artistic in its nature, I thought very interesting, because we are lovers of radio." Seth: "It was a great ad campaign, the ad campaign that Scott did, the voice over was great, it was exciting." Scott: "So that was what started this relationship. It just naturally was right. Resources pointed us in the direction to share with what we do, play music, sell soda, put it together and make a bang out of it. And nobody loses." Seth: "No, nobody loses."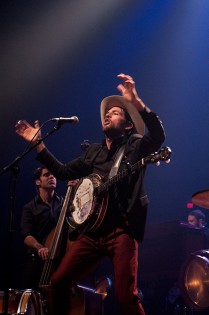 There definitely was no loser last night. The show itself was a phenomenal experience. This was by no means my first Avett Brothers concert, but it was easily my favorite. The energy was exceptional and we were on our feet the entire show. They played favorites from the 'frantic' days, new songs from The Carpenter and Magpie and the Dandelion, and unlike many other bands that have a similar depth of music to choose from, the interweaving of older and newer work felt natural and cohesive. The Avett Brothers have a innate ability to connect with their audience, I believe because you can feel their enthusiasm radiate out in every note, every song.
We are really looking forward to the next time the boys come back, but if you can't wait that long, check out their New Years Eve show in Charlotte, which is all sorts of extra special exciting-ness because local bad asses Shovels and Rope, husband and wife duo Michael Trent and Cary Ann Hearst, will be joining The Avett Brothers on stage!
Many thanks to Cheerwine and The Avett Brothers for this incredible and generous show.
words: Stacy Huggins
images: Collin Kelly
Check out the full album of incredible images from the evening here!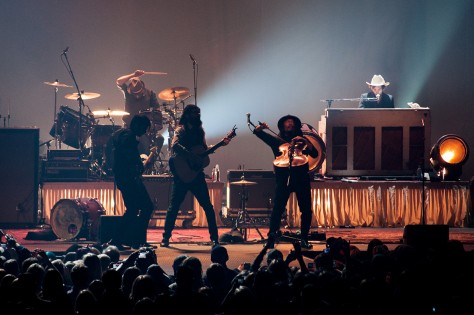 Posted on November 17, 2013 by admin.
Categories: Performing Arts, Review
Tags: Benefit Concert, Cheerwine, Legendary Giveback II, The Avett Brothers