Growing up, I attended my hometown's production of A Christmas Carol every December. It became a holiday tradition I looked forward to year round, so when I heard about The Footlight Players' production of the story, I jumped at the opportunity to attend.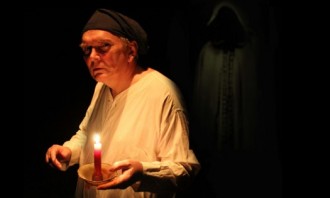 Directed by Thomas Keating, this new musical adaptation of old Ebenezer Scrooge's ghostly journey to the past, present, and future on Christmas Eve did not disappoint. The lively musical score added a fresh take on the timeless tale, intensifying both the stark and heartfelt moments of the story. The convincing costumes and set design helped to transform the Queen Street theatre into a Victorian village. The Ghost of Christmas Future, a tall, dark, faceless figure with a single bony finger sticking out from his black draped sleeve, was particularly frightening.
The musical score featured original songs by Angelyn Benson & Bobby Cronin, along with some traditional Christmas carols such as "O Holy Night."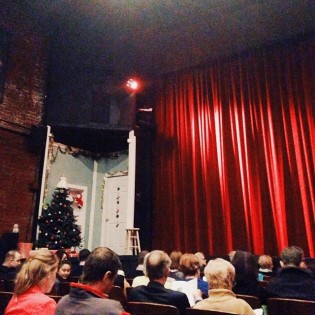 Fred DeJaco gave a very convincing performance as the "bah-humbugging," Scrooge, managing to evoke sympathy for a character who at first seems so cruel. Another special performance was by E. Karl Bunch as The Ghost of Christmas Present; a role that allowed his acting career to come full circle. Fifty years ago, he performed at Footlight Players as Tiny Tim, his first role ever in a play!
Head to the historic Footlight Players Theatre to catch this uplifting performance; it's perfect for the young and young at heart.
Performances are December 12–14, and 19–21 at 8:00pm as well as December 8, 15, and 22 at 3:00pm. Tickets can be purchased online at www.FootlightPlayers.net or by calling (843) 722-4487.
words: Daniela Weinapple
images: Daniela Weinapple + Provided
Posted on December 11, 2013 by admin.
Categories: Performing Arts, Uncategorized
Tags: A Christmas Carol, Angelyn Benson, Bobby Cronin, E. Karl Bunch, Footlight Players, Fred DeJaco