All of my favorite things about the movies Step Up and 8 Mile came to life Friday night at the Charleston Dance Festival's Hip Hop Battle hosted by Peace Love Hip Hop on Daniel Island. Ok, so no one started to freestyle rap but all the attitude was definitely there – even from the tween contestants.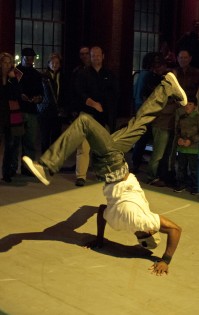 Hosted by Sean Bankhead, who has danced with the likes of Beyoncé, the interactive competition relied on crowd participation and votes to determine a dancer's success in moving to the next round. The Memminger Auditorium was divided into squares where dancers in groups of six competed for the title of "Best Dancer in Charleston." During the first three rounds, the packed house got out of their seats to get a close look at the competition while DJ United provided the beats for dancers to show off their signature style.
Personally, I became mesmerized by a battle between two insanely talented dancers from D.O.A. (Dancing on Air). These guys were flipping, spinning on one arm, and other feats of nonsense that I could only dream of achieving. D.O.A. also performed between battle rounds, along with creative and high energy routines from Peace Love Hip Hop and Dancefx.
At the end of the night, the judges made the final decision. Congratulations to Jackson Detar of Peace Love Hip Hop for winning the coveted title of "Best Dancer!"
For more photos, check out our Pics + Vids page!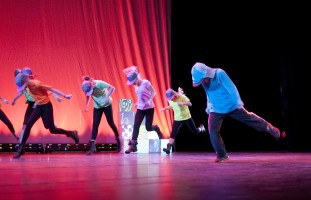 words: Christi Hardin
images: Collin James
Posted on December 15, 2013 by admin.
Categories: Performing Arts, Review
Tags: Charleston Dance Festival, D.O.A., Dancefx, DJ United, Memminger, Peace Love Hip Hop, Sean Bankhead