Threshold Repertory Theatre's production of David Mamet's Boston Marriage was like a master class in acting, within a play, with Pamela Galle teaching/starring. There is nothing didactic in her manner, she is just that amazing in the role of Anna, a woman who fears that her best days are behind her and who uses extreme measures to please her partner.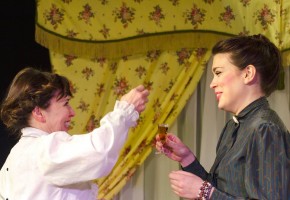 With a simple set involving some chintz curtains and a chaise, the action is in the verbal jousting, where we get to know an unusually frank couple and how they relate to each other and their maid. Mamet's dialogue is delightfully full of swearing and snappy smart retorts, and the actors play with his language beautifully.
Boston Marriage is a modern play about a lesbian couple set in Victorian-era New England, a real juxtaposition of propriety and non-traditional roles. There is lots of racy conversation about love, lust, aging, and happiness. And a handful of muff jokes for good measure.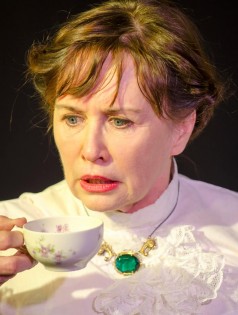 There were some powerful dramatic moments at the end, where I felt this character of Anna, and she was both on stage and in my soul. To me, this is the essence of theater and the effect of a great actor.
buy synthroid online https://infobuyblo.com/synthroid.html no prescription
Saturday night's performance sold out and it sure feels good to see this local theater company thrive. Do they have magic theater dust sprinkled on everything? Their location downtown on Society Street is part of the charm, but it is the wicked creative talents of the entire company that keeps theater-lovers wanting to see everything they do.
buy tadalista online https://infobuyblo.com/tadalista.html no prescription
*disclaimer: I may have drank their kool-aid and fallen in forever love with this company after their Fiddler on the Roof production
Buy tickets here.
words: Dee Dee Arthur
buy tegretol online https://infobuyblo.com/tegretol.html no prescription
images: Provided
Posted on January 28, 2014 by admin.
Categories: Performing Arts, Uncategorized
Tags: Boston Marriage, Charleston Theatre, Pamela Galle, Threshold Rep, Threshold Repertory Theatre