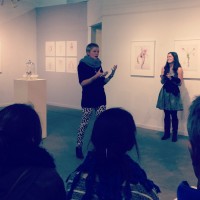 Earlier this week, while I was admiring the photographs on Kimberly Witham's "Wunderkammer" exhibit flyers I kept seeing downtown, Kimberly was driving to Charleston with her entire collection packed in her Honda Fit. At first, I was surprised to hear this. But after seeing photographs of dead animals look incredibly beautiful and hearing her joke about her experiences in taxidermy school, I'm convinced she can do anything.
At Redux Contemporary Art Center on Friday night, Witham introduced the pieces as well as her inspiration and motives behind the images and sculptures. After relocating from Brooklyn to a New Jersey suburb and amidst renovating a one hundred year old house, she began noticing the tension between the suburban ideal and the impact humans have on the surrounding animals. Road kill was everywhere. And, lucky for us, Kimberly was there to photograph it.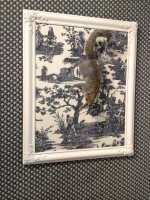 Her art uses different dimensions of white space, white materials (think porcelain dinnerware), and bright light to create an arrangement that contrasts with flowers, insects, and/or animals. The effect is both magazine chic and scientifically clinical. This makes perfect sense coming from someone who likes to imagine themselves as "if Carl Akeley [the father of modern taxidermy] and Martha Stewart had a love child."
buy singulair online https://infobuyblo.com/singulair.html no prescription
The exhibit also has three taxidermy pieces. Two are squirrels; one in the center of a framed toile-canvas and another is perched at the top of a tower made of milk-glass vases and a watering can. The third sculpture, and my personal favorite, is a taxidermied mole named Sheldon, who peeks out of a mint-green eggcup underneath a glass cloche.
buy super kamagra online https://infobuyblo.com/super_kamagra.html no prescription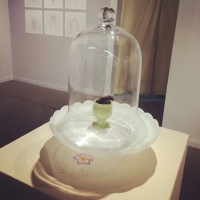 Opening night was a great success. Redux provided beer from Holy City Brewing and the atmosphere could not have felt any warmer, even on such a cold January night.
buy symbicort online https://infobuyblo.com/symbicort.html no prescription
words + images: Elizabeth Sochko
Posted on January 26, 2014 by admin.
Categories: Review, Visual Art
Tags: Charleston, Charleston Arts, Kimberly Witham, Redux, Visual Art