Being a native of New Jersey, I've had my fair share of Italian food. Though Charleston is a thriving foodie haven, I noticed upon moving here that the Italian options were slim (at least, slimmer than what I'd been used to). I had heard amazing things about Upper King's rustic restaurant Indaco for months, but did not get around to trying it out until last night. And now I regret that I waited so long.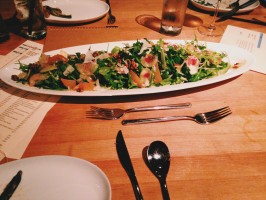 Olivia and I joined other local media members at Indaco in the early evening for a nine course media dinner. The early start time was pleasant, as the restaurant was fairly empty, but got increasingly crowded as the night went on. I took a particular liking to the light tasting fennel arugula salad with white grapefruit, candied walnuts, radish, mint, and pecorino sardo. I also enjoyed a variety of pasta dishes that had interesting flavor twists, such as the butternut squash raviolini, which was topped with charred sweet onions, and the pappardelle with pork sugo, herb whipped ricotta, and some unexpected orange.
buy lotrisone online https://buybloinfo.com/lotrisone.html no prescription
For me, the highlight of the meal was dessert. I'm a sucker for anything salted caramel, and the crostata topped with salted caramel gelato was to-die-for.
buy mestinon online https://buybloinfo.com/mestinon.html no prescription
The evening was made especially enjoyable thanks to the friendly and helpful waitstaff who happily answered all of our questions and made sure our glasses were always full.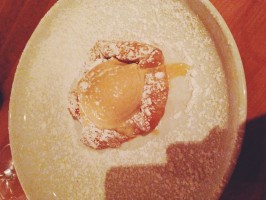 The next time you're craving some fine, filling Italian food, head to Indaco, and don't skip dessert.
buy micardis online https://buybloinfo.com/micardis.html no prescription
words + images: Daniela Weinapple
Posted on January 17, 2014 by admin.
Categories: Culinary, Review
Tags: Charleston Eats, Charleston Restaurant, Indaco, Upper King