We had a horrendously good time at The Addams Family on Tuesday night!
The performance was held at the North Charleston Coliseum, as part of their Best of Broadway productions, which is celebrating it's 15th season this year.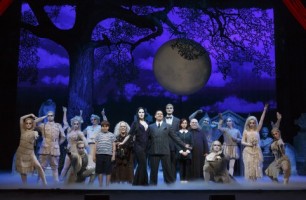 This unique, original tale centers around everyone's favorite bizarre family, the Addams, and their not-so-little-anymore daughter, Wednesday. To her parents dismay, Wednesday Addams has grown up and fallen in love with (gasp) a sweet, charming young man! This, of course, is her father's worst nightmare, and to make matters worse, Wednesday confides in her father, begging him not to tell his wife Moritcia about her romance. Things really started to unravel the night when the Addams hosted a dinner for Wednesday's boyfriend and his parents.
buy mobic online https://buybloinfo.com/mobic.html no prescription
The cast took us on a fun ride filled with playful music and laughter. Keleen Snowgren gave a stand out performance as Morticia, encompassing the seductively strange character to a tee.
buy Revatio online https://infoblobuy.com/ no prescription
The show is only in Charleston for two nights, but I definitely recommend catching the next Best of Broadway performance, Memphis (February 18 & 19). It's always a great experience seeing a Broadway show right here in the Lowcountry!
buy norvasc online https://infoblobuy.com/norvasc.html no prescription
words: Daniela Weinapple
image: Provided
Posted on January 17, 2014 by admin.
Categories: Performing Arts, Uncategorized
Tags: Best Of Broadway, North Charleston Coliseum, North Charleston Performing Arts Center, The Addams Family