Elan Midtown Boutique Apartments is the newest luxury residence on the peninsula. Nestled beside the old Meeting Street Piggly Piggly (now Bi-Lo) and surrounded by prime retail spaces, including the newest lifestyle renovator – Revolution cycle studio, Elan is pushing the extravagance envelope in our city's newest uptown developments.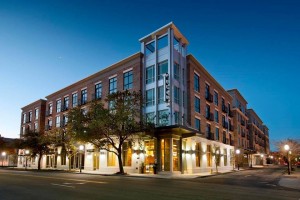 From the lobby to the sky-view pool and lounge area attached to their sports club, Elan seemingly has it all. The feel is spacious, luxurious, and effortless. The leasing agents know every answer to every question… and they better. This is not a residence for those who are looking for anything less than the best.
The tour ended in the sports club, where local culinary artisans Trudi and Patty of goat.sheep.cow were on hand with an array of delectable cheeses and charcuterie, complementary bubbles, and wine. These women know their art, and they know it well! Their pride is finding the highest quality cheese in the world, no holds barred, and bringing it to this holy city. They outfit visitors, Charlestonians, and local restaurants alike with cheese that are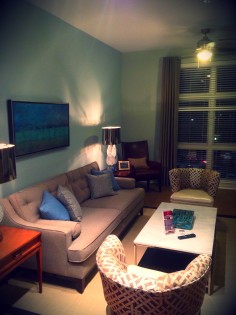 widely unknown, delighting taste buds and keeping us guessing: where DO they find these palate pleasers? Elan Midtown and the women of goat.sheep.cow made one point very clear: Charleston is moving in a magnificent direction of keeping us all on our toes.
words
: Angela Sumner
images: Angela Sumner + Elan Midtown
Posted on February 27, 2014 by admin.
Categories: Review, Uncategorized
Tags: Charleston Apartments, Charleston Eats, Elan Midtown, Goat Sheep Cow