When you get invited to dinner at Oak Steakhouse, you say yes. When you get invited to Oak with wine pairings from Honig Vineyard & Winery and a five-course dinner prepared by Chef Jeremiah Bacon, you say heck yes.  My table included some fellow foodies from Eater, The Daily Meal and The Local Palate. Given the company, you might imagine that the conversation revolved around food, wine, and the upcoming Wine + Food Festival.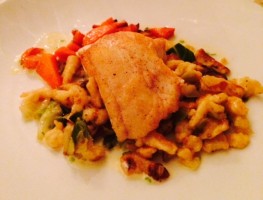 Before the first course was served, Michael Honig – who has been running his family-owned winery in Napa Valley for the past 30 years – described some of the Sauvignon Blanc and Cabernet Savignon wines we'd be tasting. He is adamant about focusing on only these two varietals and joked that "when you see a Chardonnay, you will know that I am dead".  In a smart move, he gave us an overview of the wines at the beginning of the night, knowing that the wine tasting would eventually take over the room. (Translation: It was going to get loud.)
The first glass was poured and Chef Bacon's first course was set in front of us – shrimp and lobster ragout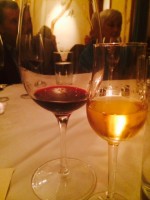 with housemade Gnuddi. This was followed by my favorite dish of the evening – a Sauteed Triggerfish with housemade Spaetzle, buttered Cabbage and a Mousseline sauce. I was trying to pace myself but it was an epic failure as I cleaned plate after plate…in a very ladylike fashion, of course.
Two stand-out wines were the 2009 "Bartolucci Vineyard" Cabernet Sauvignon paired with a Grilled Prime CAB NY Strip and the 2012 Late Harvest Sauvignon Blanc that went perfectly with the Vanilla Buttermilk Panna Cotta.
A Michael Honig and Chef Bacon dinner party? The answer is always yes.
words + images: Christi Hardin
Posted on February 27, 2014 by admin.
Categories: Culinary, Review
Tags: Honig Vineyard & Winery, Jeremiah Bacon, Michael Honig, Napa Valley, Oak Steakhouse, Wine