The Secret Sisters, who opened for Iron and Wine on Sunday night, described Sam Beam's voice as "a hot biscuit with melted butter".  If we're talking biscuits, I guess that pretty much captures his essence.
As a writer, I likened this concert to a poetry reading set to music. The humble performance featured just  a voice (Sam's obviously) and a guitar. It was soothing — you could close your eyes and get lost. And then
you would hear that lyric that would hit you. As a native South Carolinian, one of his songs gave a nod to our beautiful city, made even more beautiful and haunting by these words: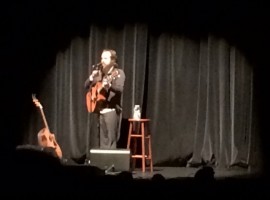 Charleston begs for broken glass
And the morning clouds are blue
This little house is hardly us
But I keep that bed from you
Time will take our breath away
The shade from under the tree
But the quiet moon's come back to bed
And you just woke up
From a dirty dream
What I love about Iron and Wine's lyrics is that even if you can't necessarily put your finger on what he meant, you can find your own meaning. And just when you were totally in the zone, Sam would crack you up. (He is seriously funny.) But then again, so were some of the people in the audience screaming out the names of their favorite songs.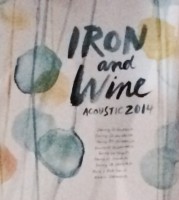 Though Charleston Music Hall was packed out, the setting felt more like an intimate session in your living room. You know, because uber-talented musicians are always serenading me in my living room.
The good news – Iron and Wine can always take you to that state of zen. Just cue a playlist. The Secret Sisters were awesome too, like the sister duo on Nashville, but with more experience in getting their hearts broken.
words + images: Christi Hardin
Posted on February 24, 2014 by admin.
Categories: Performing Arts, Review
Tags: Acoustic, Art Mag, Charleston Music, Iron And Wine, The Secret Sisters