Art lovers, photography students, and motorcycle riders made their way into the cozy gallery space of Jericho Advisors on Thursday night for the opening reception of Tanya Bogg's Re:Incarnation exhibit.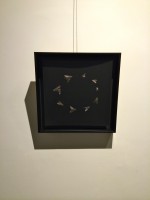 Boggs's photographs feature magnified images ranging from animal bones to reptiles and insects offset against a pitch-black background. Up close, the photographs resemble paintings rather than meticulously placed, fragile objects. They are dark, poignant, and striking images that may surprise those who are only familiar with her work as a portrait and family photographer.
buy nexium online http://padstyle.com/wp-content/languages/new/nexium.html no prescription
Besides owning and operating her own photography studio, she also teaches courses at CofC and can be found riding motorcycles and surfboards. She's impressive. After meeting Tanya, it made perfect sense that the images so easily identified as eerie were more than that. Like the woman behind the camera lens, the photographs are full of life.
This is not the first time her installment has been on display. Re:Incarnation first appeared on gallery walls when she was working towards her MFA. The inspiration surfaced through her personal experience following her brother's death. Only a fraction of the series hangs on the walls of Jericho for us in Charleston to view.
buy premarin online http://padstyle.com/wp-content/languages/new/premarin.html no prescription
For those who have seen Kimberly Witham's exhibit at Redux, you will be pleasantly surprised to see another artist who incorporates a lot of the same material (i.e., dead birds, jawbones, flies), but whose work looks and feels very different. The Charleston Art Scene is very fortunate to have not one, but two artists' work currently on display that proves how beautiful forgotten things can be and works to preserve that beauty.
buy lisinopril online http://padstyle.com/wp-content/languages/new/lisinopril.html no prescription
Tucked in between the shops and restaurants on Avondale's strip, Jericho Advisors welcomed guests to the opening night reception with wine, cheese, and sushi. Thanks for a great time!
words + images: Elizabeth Sochko
Posted on February 21, 2014 by admin.
Categories: Review
Tags: Art, Artist, Avondale, Charleston, Chsarts, Gallery, JerichoAdvisors, Photographer, Photography, Redux, Reincarnation, SC, TanyaBoggs