The Granary is an enchanting restaurant that makes us wish we lived on a ranch and reminds us how sad dishes are without fresh, flavorful veggies.
The Granary is tucked away on Long Point Road in Mt. Pleasant. Although you would expect this establishment to be on King or East Bay Street somewhere, its close proximity to Boone Hall Farms and Thornhill Farms allows direct access to delicious, seasonal ingredients. With a charcuterie program, pickling and craft cocktails, we were more than ready to delve into this farm-to-table joint.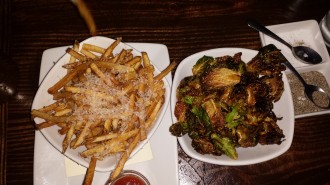 Right when we walked through the door, we were amazed at the eclectic and rustic feel of the restaurant. We sat at the bar and Alan treated us to their signature Moscow Mules, made from house-made limeade and ginger beer. Their tart sweetness made our taste buds happy. Chef Brannon Florie challenged our palates with an interesting charcuterie board filled with duck mousse, black pepper salami, pickled relish – all made in house.
For our appetizer, we indulged in the crispy Pork Belly over unbelievably creamy Geechie Boy grits and egg. Our main meals of Hanger Steak and Market Fish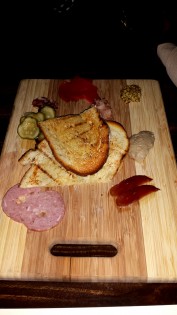 were where their farm-to-table flair burned brightest. The carefully prepared meats were garnished with homemade sauces and vegetables right from the farm. With bellies full and mule mugs half-empty, the brussel sprouts and pommes frites were suggested. Let's just say there was no room for dessert.
words + images: April Adams
Posted on February 27, 2014 by admin.
Categories: Culinary, Review, Uncategorized
Tags: Boone Hall Farms, Charleston Eats, Geechie Boy, The Granary, Thornhill Farms