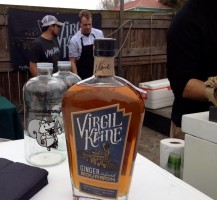 Southerner's love their bourbon.  Charleston loves their locals.  When a handful of these locals collaborate to put on a bourbon-tasting event, complete with food and live music, it's pretty great.  At Virgil Kaine's "Whistle Stop" Sunday evening, folks gathered around King Dusko's beer garden and were careful not to spill their drinks.  Not because the outdoor space was quickly crowded, but because those drinks were precious.
Virgil Kaine's Ginger-Infused Bourbon was offered by itself, with Cannonborough Beverage Co. soda, or with Bittermilk compounds.  It was impossible to pick favorites.  No such event would be complete without Westbrook Brewery or PBR (this is a biergarten, after all).  Beer was located in between the generous booths of Butcher & Bee and Spade & Clover Gardens.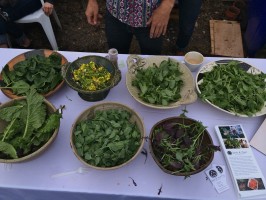 I snacked on a roasted-cauliflower pita with yogurt sauce and questioned why I don't eat Butcher & Bee for every meal.  Other options included pork banh mi, their house roast beef sandwiches, and gourmet popcorn (the stuff was prepared with bacon fat!).  Over at Spade & Clover Gardens, I was greeted with seven kinds of greens on a simple and perfect salad. I learned that Virgil Kaine's ginger root supply for their bourbon comes from Spade & Clover– proving that everything can, and should be, locally sourced.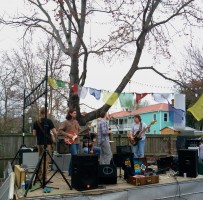 On stage, performances by both McKenzie Eddy (co-owner and operator of King Dusko) and Dead 27s left everyone swaying and singing.  Or maybe that was the bourbon.  Either way, the music was a crowd pleaser.  Virgil Kaine's "Whistle Stop" provided excellent drinks, delicious food, a dozen familiar faces, and celebrated the creativity and success of some seriously powerful local Charleston businesses.  Well done!
words: Elizabeth Sochko
images: Amber Jamison and Elizabeth Sochko
Posted on February 24, 2014 by admin.
Categories: Review
Tags: Be Local, Bittermilk, Bourbon, Butcher&bee, Cannonboroughbevco, Charleston, Chsarts, Cocktails, Event, Kingdusko, Local Bands, Local Farmer, SC, Spade&clovergardens, Virgilkaine, Westbrookbrewery