Night Three of Charleston Fashion Week was Belk night, and southern belles as well as fashion gods strode into the Runway Tent in Marion Square. Playing off the concept of the perfect family store, Belk presented their Spring collection modeled by dashing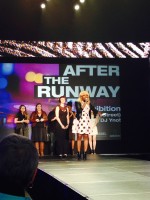 male and female models and adorable kids. The store representatives filled an entire row. As an addition to their presentation, Steve Madden made an appearance and displayed a runway of America's favorite shoes.
Following the Belk presentation began the all-awaited Emerging Designer Competition. Felicia Barth's collection centered around her time of meditation in the mountains and beautifully combined a comfortable yoga style with grunge flare. Next up was Noelle Stanley and Sean Olson, the winners of the People's Choice Award of the night. Their woodland take on children's fashion received coos and some standing ovations from the audience and judges. Following the intermission, Nkundwe
Kasyanju delivered a chic line that was both refined and edgy. Subsequently, Angela Bacskocky, Emergent Designer winner of the night, presented a high fashion collection based in suede and complimentary pastels that were absolutely stunning. This high fashion collection could make anyone envious with the beautiful, blended outfit. Undoubtedly, many of us trying to recreate this luxurious look on a budget would've hopped onto some fake designer websites to try and find something similar.
Concluding, Yuyan He's runway was spirited with geometric shaped dresses and watercolored patterns based off Chinese and American cultures.
As the votes piled in, Hunter Bell, winner of NBC's Fashion Star shared a cultivated collection of flirty dresses and fierce accessories. Videos were played recapping previous nights and advertising local designers and interviewing featured designer, David Hart. After the night's winners were announced, Ayoka dismissed an enthused and inspired crowd to the after party.
We can't wait to see what's in store for Friday and Saturday night!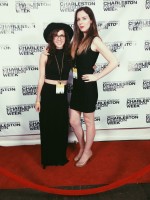 words: Amber Jamison
images: Amber Jamison + Daniela Weinapple
Posted on March 21, 2014 by admin.
Categories: Review, Wearable Art
Tags: Art, Charleston, Charleston Fashion Week, CHs, Chsfashion, Fashion, Wearable Arts