Day 4 of Fashion Week began, as always, in the Style Lounge. On this particular night, attendees could be distracted by Apothic Wine and all things that shine. Me, I grabbed my usual extra dirty Grey Goose martini and feeling energized by DJ A-Minor, perused the many jewelry vendors showing off their goods. I met the designer behind Halo Finger Art, who uses wire to create beautiful one-of-a-kind pieces and also fell in love with the simple, urban chic accessories from Heather Hawkins.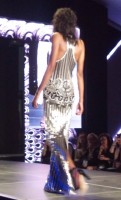 Now, on to the big event — the runway shows. Not only did the judges select an emerging designer to move on to Saturday's finale, but a male and female winner were announced in the Rock the Runway Model Competition™.
Let's start with the Featured Designer and showstopper, Brandon Sun. His Fall/Winter 2014 collection was feminine, confident, sexy, and bold. There was a lot of fur and a lot of sparkle – this little number actually caused some onlookers to gasp. A nod to Gatsby yet a truly unique interpretation.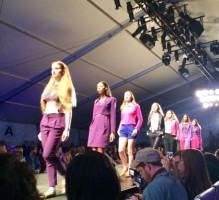 The emerging designers were brilliant and fun — from the playful, preppyness of Tiffany Saini's line to the sassy jumpers from the sister duo at The Winford Label. Former Project Runway contestant Justin LeBlanc took the People's Choice Award for his elaborately constructed black and grey men and women's wear. Dare I call it dangerous? (In a sexy, spy kinda way.) The winner of the night was Deanna Ansara. Her collection was a mixture of flow and form that was one part romance, one part mystery.
Congratulations go to Deanna Ansara as well as to models Paige Daniels and Zachariah Collins who proved they rocked the runway best. On to the finale!
words + images: Christi Hardin
Posted on March 23, 2014 by admin.
Categories: Uncategorized, Wearable Art
Tags: Apothic Wine, Brandon Sun, Charleston Fashion Week, Deanna Ansara, Grey Goose, Halo Finger Art, Heather Hawkins, Justin Leblanc, The Winford Label, Tiffany Saini