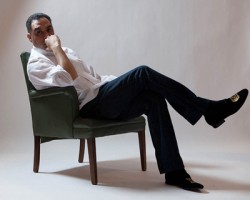 You can learn a lot about a person by what they carry with them on an airplane.  Fashion designer Luis Machicao brings on board his "bible," otherwise known as Vogue Magazine, the W Magazine, and a history book.  This mixture of traditional, contemporary, and historical speak volumes of the busy man who will be showcasing his award-winning Spring/Summer 2014 collection at Principle Gallery on Saturday, March 15 at 7:30pm.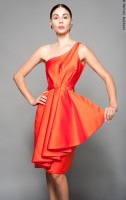 Principle Gallery will serve as a perfect venue to Machicao's line.  He is presenting the collection that achieved the "Best Designer" Award at Tiffany's Paris Fashion Week.  Art Galleries are the kinds of spaces Machicao prefers when presenting his work.  When asked how he felt about a gallery show, he was quick to elaborate.  "Oh always.  I always do shows in art galleries.  Fashion is a manifestation of art," he says.  For Machicao, it is where his work belongs. Since Charleston has galleries tucked away at every corner and is drenched in Fashion every March, it is a prime destination for the occasion.
What should we expect to see down the runway? Something that is both new and captivating but inspired by the past.  Machicao aligns his aesthetic with midcentury silhouettes but remembers to stay present.  "I'm a designer who loves the retro look.  I love the forties and fifties because it's the time when designers cared more about the female body forms. But, we are in the 21st century, so I add an extra touch that makes the style a bit more modern," he says.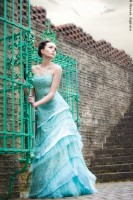 The balance between old and new most likely comes from Machicao's multifaceted relationship with fashion.  He not only designs for the runway, but also for movie sets.  He studied both fashion design and sociology. The designers of the past and his contemporaries equally inspire him. Despite his complex and passionate appreciation for all things fashion, he mostly wants to spread the happiness fashion brings him.
Bringing joy to others is what makes him most excited about designing.  "Making people happy is what I like most.  Making people happy and secure.  When you wear something that fits you perfectly, you show that without saying anything.  People can notice that.  Your eyes sparkle," he says.  The event will reach more than the attendees– all proceeds go to Communities in Schools of the Charleston area, thanks to event organizer Tina McCard. A good cause, like a good catwalk, is something worth celebrating.
words: Elizabeth Sochko
images: Provided by Luis Machicao
Posted on March 12, 2014 by admin.
Categories: Feature Post, Wearable Art
Tags: Chsarts, Chsfashion, Fashion, Fashionshow, Gallery, Machicao, Principlegallery