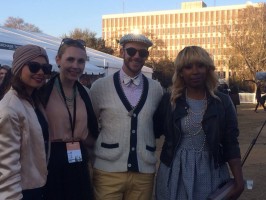 Just as everyone piled into the tents, fashion enthusiasts were relieved that the sun came out for Charleston Fashion Week Day 2. Everyone gathered into the Style Lounge to enjoy some Grey Goose cocktails and socializing with cocktails featuring winner, Jim McCourt. Angela and I snagged a quick photo of top artist and Charleston boutique curator and stylist, Andrea Serrano, owner of Candy Shop Vintage, Deirdre Zahl, renowned writer and judge, Cator Sparks, and fashion week coordinator, Ayoka Lucas.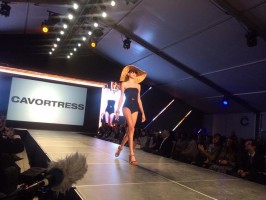 As is tradition, Ayoka opened up the runway show with a big hype for local designers. First up, Cavortress displayed vintage designs that embodied classic and flirty. Fellow local retailer, Ike Behar followed up with a stunning mens line that transformed unique personal styles into sexy sophistication. The real show-stealer emerged from the Art Institute of Charleston students. Their collection utilized sweet grass baskets in each design, and creatively incorporated Charleston history into high fashion.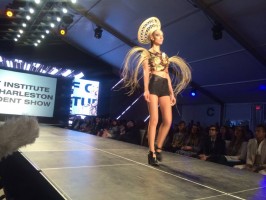 Particularly notable was Maria-Teresa Pena's collection that played with intricate lace, reds, and blacks for a sensual and risqué line. Out of the Emerging Designers Competition, Kaitlyn Machos surfaced as winner with her feminine and elegant collection.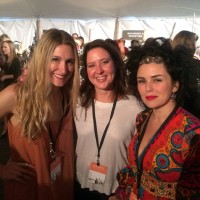 The Night's featured designer, David Hart, delivered a memorable performance with his New York styled menswear line. Every model was clad with broken glasses and perfectly connected pieces. Ayoka's interview with David Hart can be found on their website tomorrow. Everyone was able to celebrate alongside the night's winners at a thrilling after party! Don't forget to sober up in time for Day 3!
images:Olivia Pool
Posted on March 25, 2014 by admin.
Categories: Review, Wearable Art
Tags: Art Institute Of Charleston, Charleston, Charleston Fashion Week, CHSFW, Fashion, Review, Wearable Art