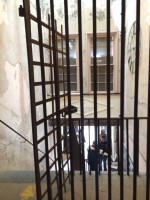 There may be no stranger place to watch a blade sharpening demonstration than inside the walls of a historic jail. But there was no foul play at the 10th annual Master of Building Arts Festival Tool Work Event, just demonstrations and displays of Lie-Nielsen Toolworks. The pieces– beautiful to the touch and astonishingly well made, along with sound advice for anyone interesting in woodworking, made for a great day of hands-on-learning and thorough inspiration. You might be able to make a diy chess board by the end of it.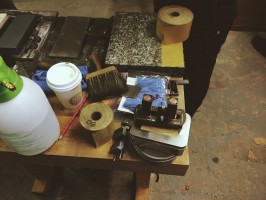 At one table, Christopher Schwarz explains the history and practicality of a collapsible bookshelf, one he made last month using fifty-year-old mahogany. At another table, Cornerstone Creations' Mary May concentrates on an intricate hand carving. A third guest, chairmaker Caleb James hangs out by his collection of 18th century wooden hand planes. Surrounding them are counters showcasing Lie-Nielsen's full line of hand tools and dozens of people, some in aprons and tool belts, some not, both professionally familiar with woodworking as well as the newbies who are still enamored by the smell of wood shavings.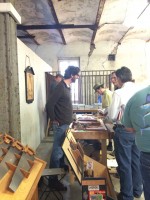 The Hand Tool Event takes place two of the Festival's three days. American College of the Building Arts has certainly provided an ample itinerary for those who enjoy, practice, or are simply just curious of the artistry and craft found when one harkens back to traditional woodworking and trusts their ability to create.
If you were unable to attend event either Friday or Saturday, have no fear! Scwarz publishes beautifully made (no surprise there) books on the subject at his small company Lost Art Press.
words + images: Elizabeth Sochko
Posted on March 30, 2014 by admin.
Categories: Review
Tags: Americancollegeofbuildingarts, Buildingarts, Buildingartsfest, Charleston, CHs, Craftsmanship, Handmade, Lieneilsontoolworks, Lostartpress, Mastersofbuildingartsfestival, Moderncraft, Oldcharlestonjail, Woodworker, Woodworking