There's an extraordinary amount of talent in hands-on craftsmanship. The final day of the Masters of the Building Arts Festival was supposed to be drenched by the all too familiar Charleston springtime storms, but the weather prevailed from start to end! It is apropos for the Masters of the Building Arts to host their event in the Old City Jail, because the building itself is a statement of creative building, historic preservation, and continual rebuilding.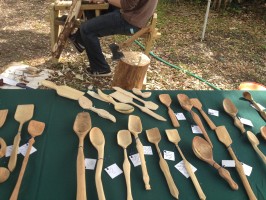 Throughout the cells, artists displayed their various tools and exhibitions that focused on bench building, intricate architecture, and spoon making. Lectures were given approximately every hour by expert craftsmen from around the country. Topics such as Masonry Preservation by Tom Russack and Sisters in the Brotherhood by Georgette Nicholson, inspired curious festival participants and reflected the goals of the college. Workshops were held throughout the day providing hands on experience in dry media sketching and light and shadow techniques.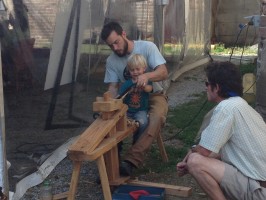 As I wandered from exhibition to exhibition, I was constantly followed by the smell of fresh wood shavings, and the pounding of tools. The incessant pounding belonged to a crew that was right outside the jail creating an enormous gazebo that would be for auction later in the evening. In the outside tents, a range of crafts were displayed including iron workings, ceramics, and, my personal favorite, perfectly crafted wooden spoons. One of my favorite sights were young boys getting into the wood and slipping out of some oversized tool belts. Much like their surroundings, young craftsmen were being built.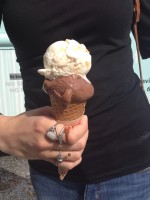 For culinary indulgence, Black Tap Coffee and Glazed Doughnuts were featured in the morning, and afternoon tastings were provided by Jeni's Splendid Ice Creams and Cilantro's Rolling Gourmet. At five, craftsmen and visitors alike dirtied their hands in some classic Charleston cuisine at the Lowcountry Boil. Frogmore stew, spinach dip, string beans, and craft beer ended the evening with warm satisfaction as the rain clouds gathered back in.
words + images: Amber Jamison
Posted on March 30, 2014 by admin.
Categories: Culinary, Review, Visual Art
Tags: Building Arts, Charleston, Charts, Craft Beer, Festival, Hand Tool Event, Handcrafted, Ironworking, Low Country Boil, Mastersofthebuildingartsfestival, Woodworking