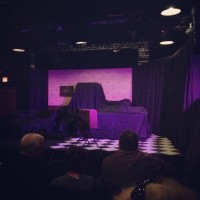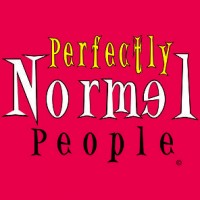 I can't remember the last time I threw my arms up in laughter at a play. Perfectly Normel People is the kind of comedy where laughter is heard in grunts, shrieks, and jumbled hiccups. Every audience members' head bobbed continuously, and applause radiated through the room after every scene. Saturday Night's show was sold out, yet I was able to find seating near the front. The intimate setting of Threshold Repertory Theatre combined with a full house set the characters right in the front row's laps.
Thomas and Judy Heath are Threshold's Playwrights-in-residence as well as the directors of the play. They premiered this piece at the 2012 Piccolo Spoleto Festival. Since then, it has gone on to win the TheatreMania Audience Favorite Award (out of 185 shows) in the 2013 New York International Fringe Festival. Aside from being one half of the mind behind the comedy, Thomas Heath also preformed in the infectious role of Johnny.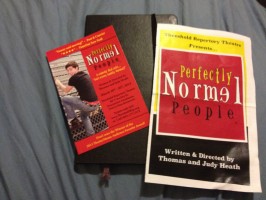 The cast's ages ranged from 19 to 80, and featured college kids as well as the writer and co-director.  Family Dynamics, puns, and heartfelt moments drew the crowd into the all-too-typical family life of a New York Italian household. Each character was beloved for his unique personality and odd quirks. Every actor embodied his role, and portrayed the everyday tumultuous life of an "abnormal" family.
Between the stomach-tickling humor and the heartfelt insight, Perfectly Normel People is a must see! Hurry and snag your tickets for next week's shows before it sells out!
words: Amber Jamison
images: Amber Jamison
Posted on March 23, 2014 by admin.
Categories: Performing Arts, Review
Tags: Cha Theatre, Charleston, CHs, CHS Arts, Live Performace, Preforming Arts