The forecast on Saturday called for rain and thunder, but that didn't keep the crowds away from the Spring Jam Music Fest at Brittlebank Park. And luckily, the rock-and-roll gods decided to bless us with a day filled with (mostly) sunshine. Sure, there were puddles, but attendees embraced the muddy waters by wading through them in their rain boots, or bare feet (in true music festival fashion).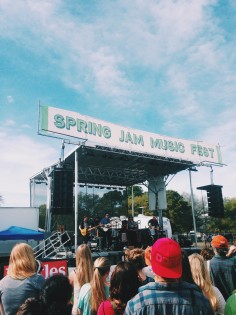 After all, isn't that what music festivals are all about? They're a different experience, one for all to enjoy and one for all to try new things. Filled with booze, drugs and laughs – a music festival is definitely the place to experience things. Just remember to be safe, and never take anything or do anything if you don't want to. You'll find a lot of people offering things like drugs, and if you don't want them then that's fine. But if you do just make sure it's the right substance. You can make use of things like this MDMA testing kit to ensure that what you are buying is exactly what the dealer says. You don't want to waste your money and regret it. At the end of the day though, just enjoy yourself. A music festival is a place where you can enjoy yourself and just be free!
This was the second year for the Spring Jam Music Fest, presented by 105.5 The Bridge. The festival featured two stages with ten overall bands performing, along with side show acts, arts and goods booths, and food vendors. The full band lineup featured Death of Paris, Possum Jenkins, Brave Baby, Space Capone, Kopecky Family Band, The Weeks, Saints of Valory, Dead 27s, The Wild Feathers, and the headliner, Augustana. I personally loved Kopecky Family Band, a Nashville-based indie-rock group, who performed their fan favorites "Are You Listening," and "Heartbeat." Saints of Valory also gave a stand-out show, getting the crowd especially pumped during their performance of "Neon Eyes."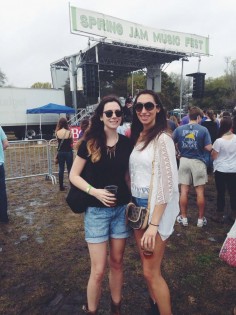 Some of Charleston's favorite foodie businesses provided bites to hungry festival-goers, including Bay Street Biergarten, Baked by Rach, and Kickin' Chicken. Atlanta-based brewery and local favorite SweetWater beer flowed on tap throughout the day (I sipped on their "Blue" brew-a blueberry infused beer that'll turn any non-beer enthusiast into a devoted fan).
Spring Jam had all the good vibes you'd hope to find at a music festival, meshed with a local feel, and gorgeous views of the Ashley River. It doesn't get any better than that. It was the perfect way to welcome in the spring season, and I can't wait to see what the Festival will bring next year.
words + images: Daniela Weinapple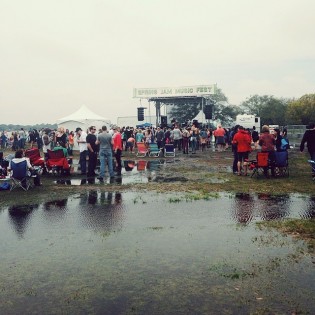 Posted on March 30, 2014 by admin.
Categories: Performing Arts, Uncategorized
Tags: 105.5 The Bridge, Augustana, Baked By Rach, Bay Street Biergarten, Brave Baby, Brittlebank Park, Charleston Music, Deads 27s, Death Of Paris, Kickin Chicken, Kopecky Family Band, Music, Saints Of Valory, Space Cpaone, Spring Jam Music Fest, Sweetwater, The Weeks, The Wild Feathers