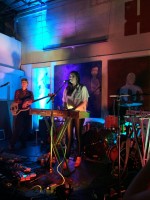 Dig South takes the cake for hosting a conference in by far the coolest venues Charleston has to offer. The five day festival brings a lot of creative minds from across the country downtown, but the first night of the Dig South Music Series featured three locals to perform: Grace Joyner, Johnny Delaware, and Mechanical River at Redux Contemporary Art Center. The disco ball in the space may have been stationary, but the audience definitely was not.
Newbie to the local Hearts & Plugs record label, Grace Joyner's first-ever-show set the subsequent acts up for near failure. Her voice, raw and loud– a voice I can only compare to St.Vincent mixed with Joanna Newsom mixed with a touch of Charleston-folk– was incredible. The lyrics were clever and striking but simple in the right ways. Song after song, I wasn't sure what emotions to expect next. I think the audience member waving a PBR and shouting for her said it best.
buy desyrel online https://www.mabvi.org/wp-content/languages/new/desyrel.html no prescription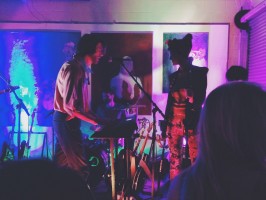 Johnny Delaware's set was equally impressive. The South-Dakota native had everyone moving from the first chord to the last song and has definitely established a fan base here in Chuck. Popular tracks from his Secret Wave album, released last year, filled the room with some shameless singing and dancing, no doubt inspired by spunky nature of the front man himself.
buy sinequan online https://www.mabvi.org/wp-content/languages/new/sinequan.html no prescription
In between acts, show-goers explored the hanging art around the gallery itself. After a Redux beer run, Mechanical River graced the stage for the final performance. Helmet on and pedals out, the electronic-experimental musician put on a confident and, to put it simply, fun show. Despite the jarring nature of electronic mashups, his soothing voice and whimsical lyrics put the audience in a trance. A trance we were all pleased to be in.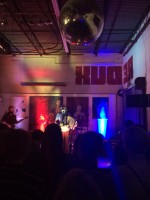 buy imuran online https://www.mabvi.org/wp-content/languages/new/imuran.html no prescription
Many thanks to Dig South for hosting the music series, to Redux for supplying an unbeatable venue (and alcohol!) and of course—to the musicians who make the Charleston scene something worth keeping an eye on. There's nothing better than spending a week night supporting the locals who give this city its charm.
words + images: Elizabeth Sochko
Posted on April 10, 2014 by admin.
Categories: Performing Arts, Review
Tags: Arts In Charleston, Charleston, Chs Music, Chsarts, Digsouth, Gracejoyner, Hearts & Plugs, Johnnydelaware, Mechanicalriver, Redux, Redux Contemporary Art Center, SC, Show