"Mannequin: The American Dream" by Entropy Arts and DanceFX, featuring the Charleston Dance Project and Entropy Ensemble is one of the best shows I've seen in Charleston in a really long time. I was lucky enough to catch the premiere of this at the College of Charleston's Sottile Theatre last night and was blown away by every single element of the production. This extremely well-written and choreographed story was perfectly executed, and is worthy of a national audience and perhaps even a national tour.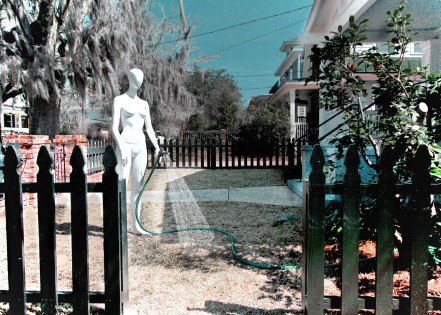 When we walked into the picturesque Sottile Theatre, all we could see was a lone white mannequin on the stage and one seated mannequin in the audience, which of course, we sat next to immediately! She seemed a little shy.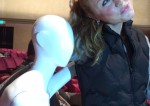 My favorite part of the beginning of the show was the group of stereotypical beauty queens, dancing in their ball gowns – clearly making a statement about our American ideals of "perfect" outward appearances. The show went on to highlight a few different story lines about various ordinary people's lives. Another favorite was the piece where the woman was tied to ropes and was literally being "pulled apart" by the unrealistic demands of our society. And the dances with the business men in suits was such a clear depiction of a monotonous daily grind. Many of these were thrilling and disturbing at the same time. The show culminated in the end of a woman's life and her being buried (perhaps alive?).
buy prelone online https://www.mabvi.org/wp-content/languages/new/prelone.html no prescription
Don't take my comments to mean that this is a "negative" show in any way. It is powerful, poignant, important, and yes, a bit dark, but it is also extremely beautiful. I would go and see it again immediately. I loved the stage set up with the lonely mannequin, as well as the way they had elevated the Entropy Ensemble band onto a high platform towards the back – a very smart move for the audience to be able to see them clearly and to give more room to the dancers below. And Entropy Ensemble is just so crazy talented. I mean, damn, boys! Nice job!!!!!!! The choreography by Jenny Broe, Sara Cart, Starla Kurtz, and Stephanie Burg was outstanding, and the costumes designed by Laura Bland and Sara Cart need to all find their way into my own personal closet.
Not only is this a production that is well-executed, it has a strong message and storyline and one that impacts every single one of us in today's culture. The original description of the show is very accurate: "The perfect self ­image, the perfect job, the perfect life: all things American shine on a silver platter until they start to rust in this exceptionally unique dance experience. Cinematic in vision and dramatic in message, theatrical movement tells three interconnected stories; each illustrating the deceivingly two­-faced white picket fence mentality. A multi­media production with live music, art and spoken word accompany the dancers, transporting the audience to an alternate reality; one that is familiar yet hauntingly different. Nothing is quite what it seems, and each character discovers that their desires are delusions in a world full of 'Mannequins.'"
buy prevacid online https://www.mabvi.org/wp-content/languages/new/prevacid.html no prescription
This show needs to be seen by everyone, and it's really something that should be playing during Spoleto Festival USA so that a national audience can appreciate Charleston's stellar local talent. Get tickets by clicking here. And both groups will be performing next Saturday at the JAILBREAK Festival at the Old City Jail.
BRAVO to Entropy Arts and DanceFX. Really. BRAVO!
words: Olivia Pool
Posted on April 19, 2014 by admin.
Categories: Performing Arts, Review
Tags: Charleston Sc, Contemporary Dance, Dance, Dancefx, Entropy Arts, Entropy Ensemble, Jailbreak Festival, Mannequin, Perfect, Performing Arts, Sottie Theatre, The Charleston Dance Project