Vintage treasure hunters, take heed.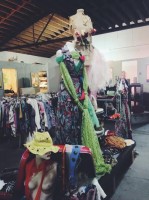 Asheville-based vintage clothing extraordinaire Urban Gypsy Trunk Show has taken over Tivoli, and transformed the space into a fashion lover's heaven. The trunk show, which I attended last evening, features every style in every color you could imagine, and the best part is, most of the items are between $4-10. Yes, really.
Also featured at the trunk show is Rebecca Jane Jewelry, made from unique found items such as boar's teeth, fish bones, and shells. All of her items are one-of-a-kind. For the truly adventurous, pick up one her quirky pieces, adorned with things like bird's feet or real bumble bees.
After browsing the selection, I left Tivoli with a couple new clothing items and a fish bone necklace.
The Urban Gypsy Trunk Show is still going on for the rest of the weekend. Pick up a bottle of wine and head to Tivoli to party while you shop!
words + images: Daniela Weinapple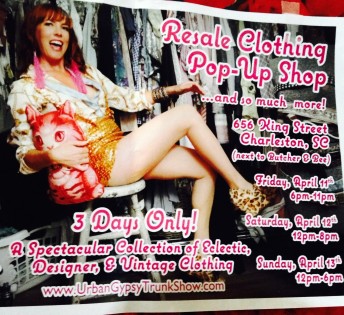 Posted on April 12, 2014 by admin.
Categories: Uncategorized, Wearable Art
Tags: Charleston Fashion, Rebecca Jane Jewelry, Tivoli, Urban Gypsy