A whirlwind of found objects swirled through the exhibit space at Redux Contemporary Art Center on May 16 as artist Hollis Hammonds' exhibit Worthless Matter officially opened to the public.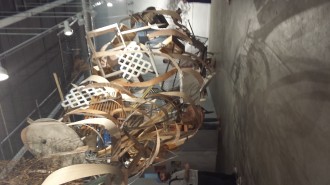 The art opening kicked off with a chat lead by the artist herself and was followed by an informal question-and-answer session. Hammonds explained that her massive in-air sculpture was inspired by her experiences with tornados growing up in the Midwest and by the series of devastating tornados that stuck the South and Midwest in 2011.
buy lexapro online https://www.mabvi.org/wp-content/languages/new/lexapro.html no prescription
The piece itself is composed of an amalgamation of found objects, most of which were picked up on the very streets of Charleston. It took Hammonds three days (and dozens of trips up and down a ladder) to create a structure specifically fitted to the Redux Studio. Together, the mass of objects that composes Hammonds work is carefully arranged and hangs from the studio ceiling in the shape of a cyclone.
buy priligy online https://www.mabvi.org/wp-content/languages/new/priligy.html no prescription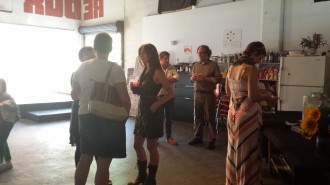 If the sheer stature of the work weren't already impressive enough, Hammonds' explanations of the piece offered new weight to the importance of her work. This exhibit is a thoughtful meditation on consumerism, destruction, beauty, and restoration. While the materials that compose Hammonds' piece may be worthless, the visionary scope of this artist's work is anything but.
buy flomax online https://www.mabvi.org/wp-content/languages/new/flomax.html no prescription
Be sure to check out the exhibit yourself, which will be on display until June 28.
words + images: Elizabeth Lambert
Posted on May 17, 2014 by admin.
Categories: Uncategorized, Visual Art
Tags: Charleston Art, Hollis Hammonds, Installation Art, Redux, Redux Contemporary Art Center, Worthless Matter