Keigwin + Company gave my favorite Spoleto 2014 performance to date. It was performance of five movements, all choreographed by Artistic Director Larry Keigwin. Keigwin's take on contemporary dance is strongly rooted in ballet, but has a decidedly fresh take on dance, an evolution I've be quietly watching for about a decade. The choreography screams "this is really fun for the dancers!" while creating an engaging experience for the audience, complete with spot-on costume design and music that fits hand-in-glove; there is not a forced marriage or awkward moment in sight anywhere. NO one was bored at this performance.
buy lopressor online https://bethanyhealthcare.org/wp-content/languages/new/lopressor.html no prescription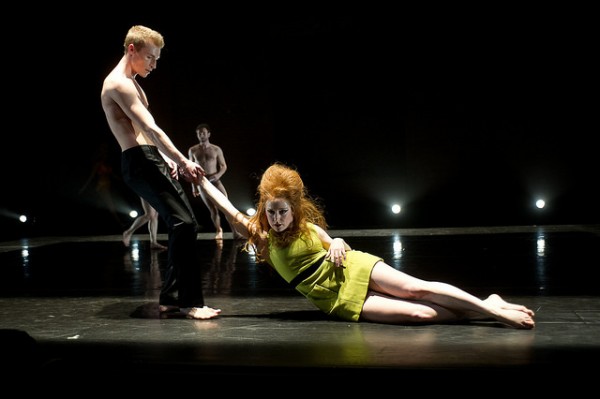 If I could dream up my ideal company to dance for, Keigwin + Company would be it.
buy lotrisone online https://bethanyhealthcare.org/wp-content/languages/new/lotrisone.html no prescription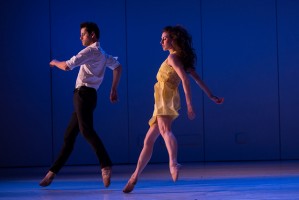 Canvas: the opening piece.
Keigwin collaborated with composer Adam Crystal for the score, also titled "Canvas." When movement and music are created in conjunction, the piece can achieve an infinitely higher level of polished perfection. The costume design was simple and bold, classic but not distracting from the movement, and the movement is really what it is all about. No pointe shoes, no endless fouettés, or other show-boat-y choreography–Kegiwin has infused the best of Modern dance into Ballet. Fluid, yet laser sharp movement, each dancer moved with precision and mastery of both the choreography and the body.
Another defining characteristic is the fluid and more equal male and female roles throughout Keigwin's choreography, almost like the fluidity of gender roles in modern society. Women lifting women, women lifting men, men dancing together, everyone equal, and equally responsible for the success of the movements. Gone are the wilting, fainting flowers of classical ballet.
buy mestinon online https://bethanyhealthcare.org/wp-content/languages/new/mestinon.html no prescription
The work is movement oriented, which Keigwin himself affirmed after the performance, at the celebration for Keigwin + Company held at the stunning home of Mike and Michele Seekings. Keigwin was a dancer himself, which was immediately evident to me through his choreography. It was choreography that would be FUN for a dancer–and that translated into fun for the audience. I've NEVER heard an audience laugh out loud at the ballet, like they were sitting at a piece of theatre or comedy show. Keigwin + Company made that happen.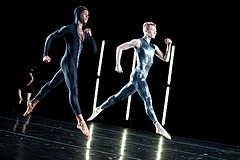 Megalopolis: the piece that got everyone talking.
When planning a performance of five works, the number three seat could either be forgettable or the stunner. Megalopolis was the Stunner. The costumes looked as though Kurt Hummel from Glee had designed a day wear line for Lady Gaga. Black or iridescent lycra, silver glitter like whoa, and let's not forget the whole body costume with the Pepe Le Pus glitter-skunk stripe down front and back (pictured left). Cue the other-worldly music and the 'alien' experience was complete. I thought "Ohhh, this is where we lose them," the more conservative members of the audience. I worried that about 70% of the audience would be lost and eventually disengage entirely.
But then the lights go down and one dancer comes out with flashlights, and moves to shame any rave kid. The fashion element kicked in, set to thumping music of MIA, and it was literally draw dropping. I smacked my date like he wasn't sitting there watching the exact same thing. I probably drooled a bit. Amazingly, the Bluebloods beside me were just as enraptured as I. It was amazingly successful and had the entire audience literally buzzing with energy come intermission.
Runaway: end it on a naked note.
Commissioned by the Dance Division of The Julliard School, Runaway also boasted a score commissioned specifically for the work. It has a Mad Men aesthetic with sharp movement, and all I could think during the performance was, 'how do those wigs stay on!?' Just watched the video and you'll understand.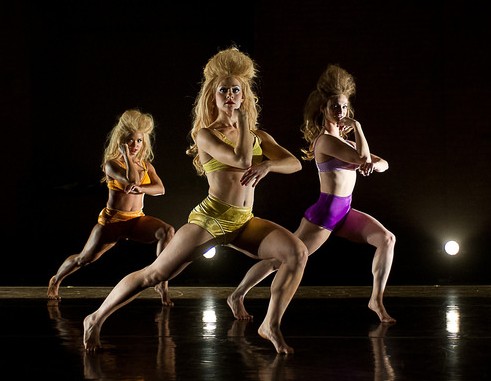 If you have any doubts as to the success or the quality of Keigwin + Company, please put them to rest now. This was the first work of dance that I, a reformed ballerina, have truly LOVED in years, and I've see a lot of it. I will also make a public vow now to see any and every performance by Keigwin + Company that comes within my scope again. A resounding A+.
words: Stacy Huggins
Posted on May 31, 2014 by admin.
Categories: Performing Arts, Review
Tags: Dance Review, Keigwin + Company, Larry Keigwin, Spoleto, Spoleto Festival Usa, Spoleto Review