How amazing is it to live in a city where, on any given night, you can wander into an art gallery and have a personal conversation with a renowned visual artist like Doris Colbert Kennedy? On Friday evening, Art Mecca of Charleston opened its doors to celebrate the
premiere of Kennedy's "Inner Energies" exhibit, and guests were able to mingle with Kennedy and talk with her about her work. Many guests came to the Art Mecca specifically for the opening, but those who stumbled upon the exhibit seemed pleasantly surprised by Kennedy's appearance.
buy antabuse online https://bethanyhealthcare.org/wp-content/languages/new/antabuse.html no prescription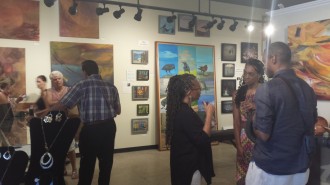 buy arava online https://bethanyhealthcare.org/wp-content/languages/new/arava.html no prescription
While guests sipped wine and nibbled on hors d'oeuvres, Kennedy explained that her work is inspired by such diverse topics as quantum physics, Taoism, and God. Though the themes of Kennedy's work might be difficult to grasp alone, her visual representations help to make these abstract notions comprehensible, whether that be about how the world works towards cultivating female energy, expressing the wonders of physics and the interconnected state it can leave us in, or countless other interpretations that happen when you get to experience art up close and personal. The sweeping, gestural motions of Kennedy's paint strokes combined with her use of bold, vibrant colors encapsulate the movements of the energy that she finds in everyday life.
buy asacol online https://bethanyhealthcare.org/wp-content/languages/new/asacol.html no prescription
As with most artists, it's one thing to describe Kennedy's work, but it's quite another to see her pieces in person. Anyone interested in her vivid, incredibly thoughtful pieces should be sure to swing by Art Mecca to check them out!
words + images: Elizabeth Lambert
Posted on June 22, 2014 by admin.
Categories: Visual Art
Tags: Art Mecca, Doris Colbert Kennedy, Upper King, Upper King Design District Shop + Stroll