After undergoing a renovation, The Vendue's new restaurant The Drawing Room opened for business earlier this week. I had the pleasure of visiting the restaurant on Friday for an evening filled with some of my favorite things: food, drinks, and art.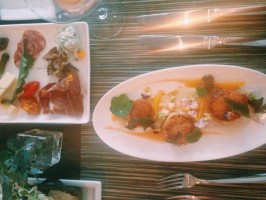 This new establishment has replaced the original restaurant, The Library, and features seasonal dishes made from locally grown ingredients. The dinner menu features an assortment of imaginative small plates such as Braised Rabbit Crepes and La Belle Foie Gras, along with larger options to share such as Braised Lamb and Crispy Snapper. These creations come from Executive Chef Jon Cropf, formerly the head chef of Blu Restaurant and Bar on Folly Beach.
buy glucophage online https://bethanyhealthcare.org/wp-content/languages/new/glucophage.html no prescription
The walls are adorned with the current art exhibit, "Here Now," which features 65 works by over 30 artists, and features some of the most talented artists who are currently displaying their work around Charleston's premier galleries. "Here Now" will be on display for six months.
I started my meal off with the Skinny cocktail, made from Tito's, St. Germaine, Grapefruit juice, and pomegranate puree, which had a sweet, refreshing flavor. Next, I tasted some delicious cheeses and cured meats from the Charcuterie Plate. The truffled salami was my personal favorite.
buy grifulvin online https://bethanyhealthcare.org/wp-content/languages/new/grifulvin.html no prescription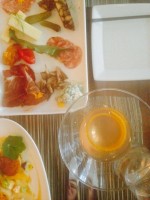 As a main course, I opted for the Pan Roasted Scallops off the Small Plates menu, which came with cauliflower, arugula, Fresno Chili, and Valencia Orange. The arrangement was beautiful, and I was happy to find that it tasted as good as it looked. The scallops were cooked perfectly, and had a delicate, light flavor that was ideal for a summer dinning experience.
buy hytrin online https://bethanyhealthcare.org/wp-content/languages/new/hytrin.html no prescription
My evening at The Drawing Room was made especially enjoyable thanks to the friendly and welcoming staff, who were more than happy to answer all questions, and explain the menu items in detail. The Drawing Room will be open daily for breakfast, happy hour, and dinner. Whether you're in the mood for a quick drink or a lengthy dinner, stop in sometime soon and immerse yourself in delicious flavors and beautiful artwork.
words + images: Daniela Weinapple
Posted on June 9, 2014 by admin.
Categories: Culinary, Uncategorized
Tags: Charleston Eats, Charleston Food, Downtown, The Drawing Room, The Vendue